As a person who really dove into Lego with the 1978 Classic Space sets, the character of Benny in The Lego Movie, the 1980-something spaceman with the cracked helmet, really appealed to me. I loved those sets and have done new creations that hearken back to them.
When they released the spaceship that Benny finally gets to build as a set, I knew I had to get it. Sadly, my Legos are lying abandoned these days, but the spark is still there. Benny's spaceship is very much a throwback to the Classic Space era, and I was ready to go back there again. I built it this weekend.
My intention was going to be a post full of photos, illustrating the various steps, but most of the pictures I took with my camera didn't come out well. Enough did, though, that I can give you a good account.
The set is a big boy, with 940 pieces. At $100, it goes a little over the base dime-per-piece cost, but not terribly so, and as we'll see, there's a lot you get here.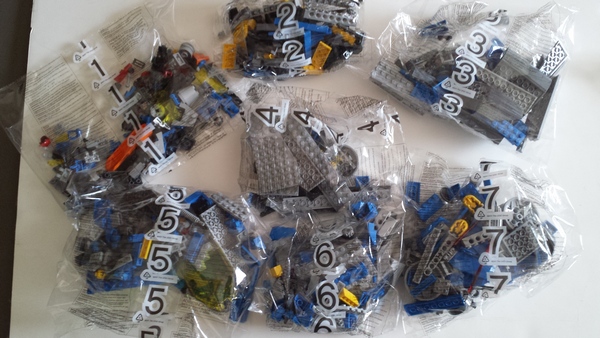 There are seven bags of pieces, two instruction manuals, and a sticker sheet.
Here are the results of bag #1. Let's zoom in on the minifigs.
Wyldstyle is in a rocking Classic Space version of her outfit (the "hood" part of the hoodie is actually a separate neck piece, so now any blue torso can have a hood!) and Emmet is disguised as a robot.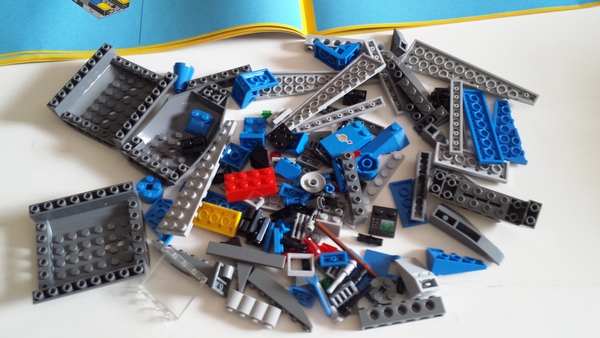 Here are the contents of bag #3, with the Classic Space logo and a good old red 2×4 brick, the best brick of them all.
I normally don't put the stickers on pieces, but for this one, I did. Here's one reason I usually don't. I am terrible at stickers. I slowly, carefully line them up and then bam, they go on at a crazy angle and I have to pull them off and try again. In this case, on a clear window, the final result looks terrible.
Benny himself shows up in bag #5, the first bag of instruction manual #2. Earlier in the build you make a little place that holds tools, one of which is a wrench and the other…a hammer? "No!" I outraged. "It should be a walkie-talkie! Wrenches and walkie-talkies were what the Classic Space astronauts had!" When Benny showed up with a walkie-talkie, all was once again right in my world.
This was a cruel, cruel trick, Lego. Two stickers, on two different sloped bricks, that were intended to form a continuous line between them. And I had to do this twice!
…and then, as you can see here, they're separated anyway! Also, check out Space Unikitty!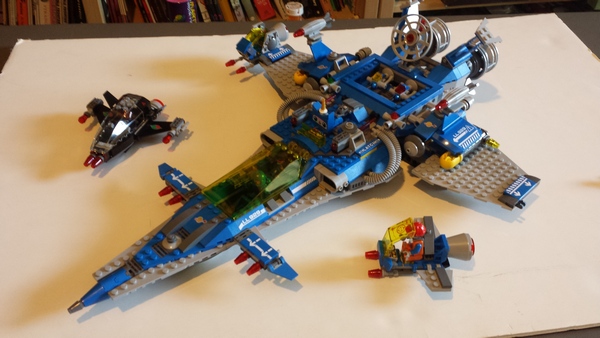 And here's the finished product (click on it to make it supernova-sized).
This ship was an absolute blast to put together. It's full of really cool and clever connections. You non-Lego people will have to bear with me going full-tilt Lego nerd for a moment, but there is a connection involving an old school wheel that blew my mind. A thirty-year old piece being used in a way I had not only never seen done but didn't even know was possible! And I love the use of the sideways arched windows as engine intakes.
The pieces are a great mix of old and new. A lot of stuff I haven't seen since the old days (check the "air horns" on the top, just behind Unikitty!) and a lot of great new pieces, including some 2×2 round tiles with a stud-sized hole in the center.
There's a lot of play value here as well. You get five minifigs, including Unikitty. The ship fires eight missiles: four flick-fires, two big yellow rubber ones, and two new (to me, at least) ones on either side of Unikitty. The cockpit opens and seats three (though the canopy doesn't close all the way if anyone is in the very front seat.) The little spaceships on the side detach. Between Unikitty and the radar dish is a bay holding two little robots that can come out. Unikitty's area flips up to reveal a small control area, tool storage, and a screwed up sticker on a window giving a view of the engine core or something. Pushing in and pulling out the center engine on the rear extends and retracts the wings, which can reveal or hide the yellow rubber missiles. And the bad guy robot has a little pursuit ship of his own. What's more, this thing is built sturdy. Despite its size, it is well constructed and can stand up to play.
Do I have any quibbles? Minor ones. I'd like to have seen the yellow-black-yellow stripes seen on early Classic Space sets included here somewhere. The bottom of the ship isn't finished off well, looking like the bottom of a Lego model. I'd like to have seen a few more classic pieces used. But none of those are deal-breakers, obviously.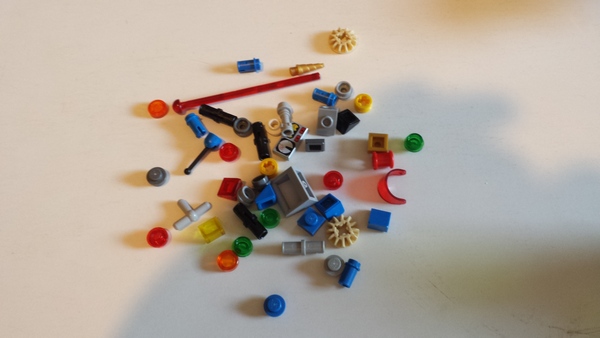 And here are the extra pieces, including an extra newfangled missile to replace the one that goes under the bookshelf in 5…4…3…
If you're a fan of Classic Space, Neo-Classic Space, or great Lego sets in general, do not pass up Benny's Spaceship, Spaceship, SPACESHIP! There's a good reason he's got that great big smile on his face.