You may, but shouldn't, remember three years ago when I put a bunch of card games in a box. At the time this seemed like a pretty good idea, but ultimately it had drawbacks. The box was heavy, I didn't always want to carry 18 card games with me to game day, and most importantly, I had 18 card games in a box that had none of their names on it. So when I was scanning my game shelf I overlooked all of them. Not good.
The other day at Staples I found the perfect solution. Lo!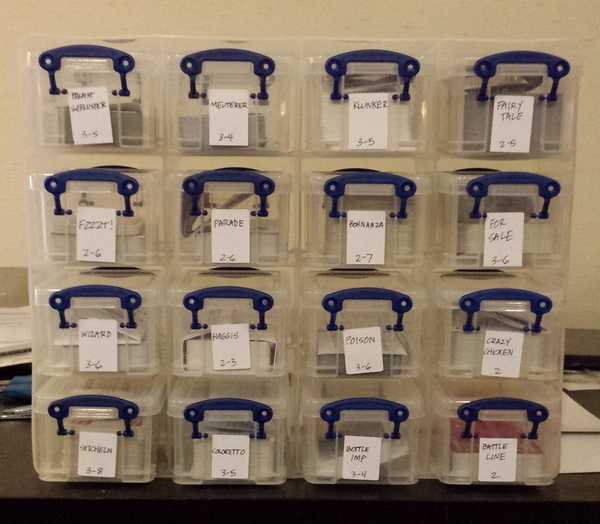 Sixteen different card games in a nifty plastic arrangement that costs too much but oh well. Now I have the games neatly stored, but also visible and portable. Each of those boxes comes out, so when I want Sticheln I grab Sticheln and not 17 other games with it. The boxes hold a good size deck of cards, rules, and, in the cases of For Sale and Battle Line, other bits. I've also labeled each box with the number of players for the game, so I can quickly see which ones play what.
I bought two of them, so 32 of my card games will be neatly stored and accessible. I could probably even double up some of the smaller ones to store more.