Still would.
The X-Files re-viewing project continues, though it's undergone some changes. Season two is done. This is the season where the Conspiracy arc takes off, and as a result, I'm hopping off board, at least of those episodes. I just can't do it again. The X-Files mytharc is the dumbest, sloppiest, most inept waste of time and knowing that fact going in doesn't help.
But I also stopped with watching all of the Monster of the Week episodes because let's face it, a lot of them are not very good. I love the characters of Mulder and Scully, and I love the premise of the show, but too often the scripts were not kind to them. I know that someone out there loves "Aubrey" or whatever, but I'm pretty sure I can safely pass on a bunch of these.
Anyway, this is how Season Two shook out for me.
Little Green Men – We start out with an episode in which, after having been into a secret government lab and finding and handling what appears to be an alien fetus in the previous episode, Mulder trucks out to Puerto Rico because a radio telescope there may be receiving some kind of alien signal. This also features the scene where Mulder approaches the telescope and sees that the fence is padlocked shut. So he hikes around through the jungle to an opening, goes to the main building, and then pulls a bolt cutter out of his bag to get inside, where he finds a Mexican guy waiting. What I'm saying is that this episode is not very good.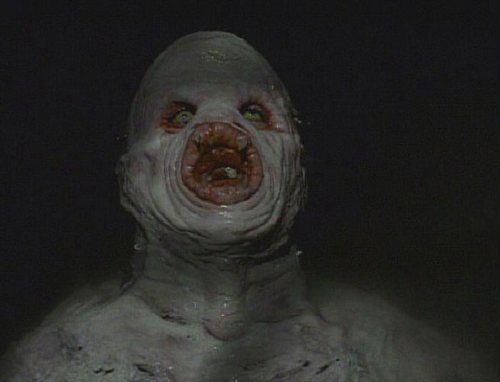 hero
The Host – Now THIS is more like it! Flukeman! The best part about this episode, other than that it's so disgusting, is that it's not like the usual ones. Everyone sees Flukeman, and knows this crazy thing is real. Skinner says they're going to send it to some kind of psychiatric hospital! This is pretty much the gold standard for MOTW episodes.
Blood – I loved this episode when it first aired and I still love it. It was not only as good as I remembered, it was better, even though there's probably one too many elements thrown into the mix. William Sanderson proves he's a national treasure, as always, and there's even a for-real porn actress in one part. This episode has Mulder and Scully doing very little investigating and more like just being around a bunch of weird shit as it happens until it stops, with never an explanation as to what was going on, and I'm all over that. I also like when they find out that exposure to an insecticide may make you paranoid and crazy, which means it has no effect on Mulder whatsoever. I think this is a first-rate episode.
Sleepless – A kind of eh episode, best known for introducing Alex Krycek, Mulder's new partner. I would eventually come to dread seeing Nicholas Lea's name in the opening credits, but he's only going to be a minor character for me if I avoid the mytharc. (Unfortunately I'll miss a lot of Skinner that way as well.)
A memorable scene from "Duane Barry"
Duane Barry/Ascension – The first two-parter and the reason I bailed on the Conspiracy this time around. Although I know I came to hate the overarching plot, I remember liking Duane Barry (the episode and the character). Turns out that's because Duane Barry is a great stand-alone episode. You have a guy taking hostages who thinks he's being abducted by aliens, but it might not be what it looks like. It's a good story, and it's solid…until the last two minutes. At that point Duane somehow escapes, somehow finds Scully, and somehow kidnaps her. And then you have Ascension, which is just miles of stupid, unraveling the nice plot leading up to all this. And it's the perfect summation of the show, as a great stand-alone story gets shoved aside for a dumb wreck of a conspiracy episode. This was when I decided no, I wouldn't be rewatching every episode. It's also when, for a number of reasons, I also bailed on Kumail Nanjiani's The X-Files Files podcast.
And now the joyous freedom of skipping episodes! I passed on all of the following:
3
One Breath
Firewalker
Red Museum
Excelsis Dei
Aubrey
It's like I opened up a Christmas present and inside was six brand-new hours!
Irresistable – I like this episode because it has nothing supernatural in it. (Yeah, I know, the weird demon thing is presented from an omniscient point-of-view, not a character's, but whatever.) Donnie Pfaster is just a straight up human monster and that's it, and I think it works and should have happened more often.
Die Hand Die Verletz – Another classic episode, and also a nice change of pace in that sometimes women can also be freaky evil monsters. It's also probably the first episode to approach its story in a more humorous way (despite some genuinely horrifying scenes). This one shows up on a lot of "best-of" lists, and there's a good reason for it.
Fresh Bones
Colony/End Game
Fearful Symmetry
Død Kalm
Nope, skipped these.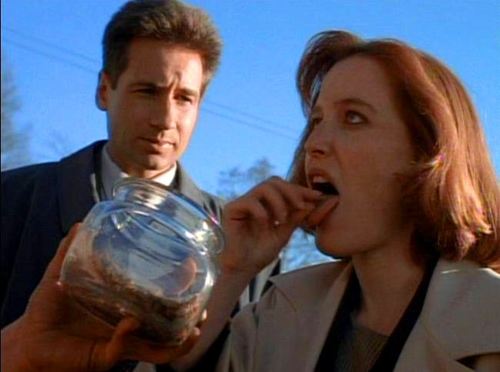 She's never been sexier than when she ate that cricket
Humbug – This is one of those X-Files where the "mystery" is somewhat beside the point. Everything works here. Mulder and Scully have great lines, the supporting characters are great, there are tons of memorable lines and scenes, and everyone is just having a blast. Darin Morgan lifts up the show and demonstrates a skill with the writing that few of the other regulars would be able to pull off. Imagine a season of episodes like this, instead of the leaden, clumsy stuff we so often got. Also: Scully eats a bug!
The Calusari – I didn't know why this one stuck out for me as one to watch, but it wasn't too bad, despite taking what seemed like forever to really get going. Once it does, though, you have a lot of creepy stuff happening. I want to see a whole series about the Calusari, just going from town to town, Calusaring.
F. Emasculata
Soft Light
Our Town
Anasazi
Skipped these. I was tempted by "Soft Light" since it has Tony Shalhoub in it, but I'm pretty sure that's all it has going for it.
And that's it for season two. A lot of chaff, but also some great, classic stand-alone episodes. If you think I passed up a good one, let me know, unless it's "One Breath".