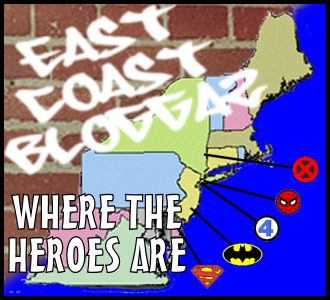 YO, WE GOT THA COMICS AND/OR OTHER RELATED POP-CULTURE BLOGGING UP IN THIS PIECE!
The East Coast Bloggaz are a coalition representin' the mighty blogging ability of people in the Eastern Time Zone. We roll hard, givin' the lowdown on comics, movies, TV, music, politics, and other topics! Our flow be fresh, our links be hype, our hype be, uh…I'm out, I got nothing. You step to one of us you step to us all, so if you're plannin' on dissin' tha ECB, you best make sure yo azz can cash whatever checks yo mouth be writin.
Tha Crew:

Cognitive Dissonance

The Pickytarian
You wanna roll with the ECB Crew? Hit that contact button and we'll see if you got the mad bloggin' science and the appropriate geographical location!