Awwwww yeah. Four-day weekend, folks. That's what I'm talkin' about. And what did we do during this heapin' helpin' of holiday? Glad you asked!
Friday we bought a new bike for Becky: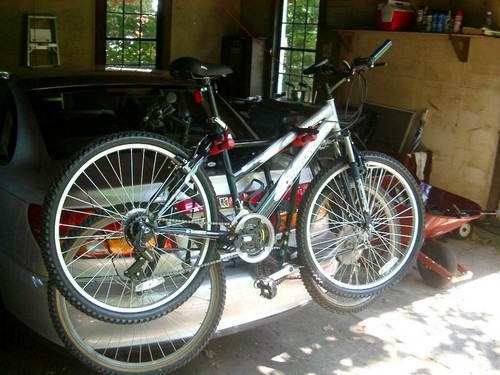 and then that night we re-watched Attack of the Clones in preparation for re-seeing Revenge of the Sith.
Saturday we had to take the new bike (and my fixed up one) for a test ride, so TJ and Mary joined us in Forest Park for some biking. Thankfully, Becky and I quit just before we dropped dead, so it wasn't as hard on us as it could have been. The bikes did well, and we're looking forward to some more biking soon!
That morning we got up in the attic and straightened it out some. I got some serious eBaying to set up, which will be great for getting rid of stuff and getting some cash, but damn it's such a pain in the butt to do. Then we watched Clone Wars vol 1, the Cartoon Network micro-series which I'd ordered the DVD of.
But Sunday was the big day! We headed up to Belchertown with Dan and Jen for a barbecue at John and Christine's place. We met their daughters, Gina and Josie, and also a friend of Dan's and John's named Brian (and his two sons, whose names I forgot). There was excellent food (mmmmmm…grilled salmon…) and a lot of fun, especially when we broke out that pinnacle of outdoor entertainment, Jarts!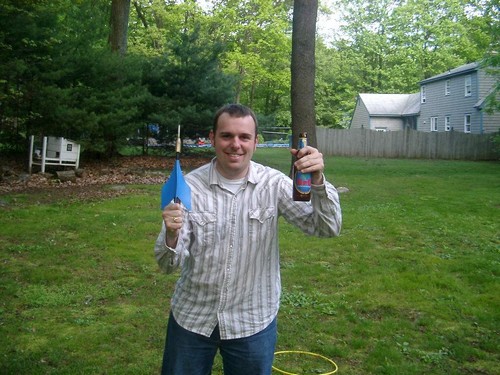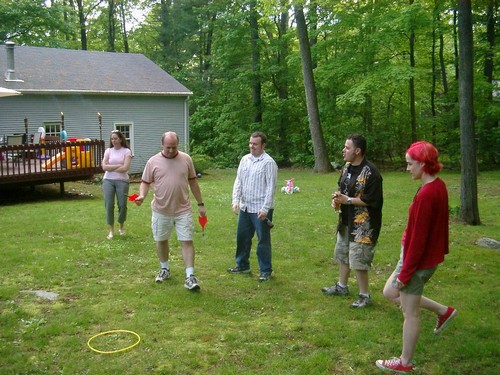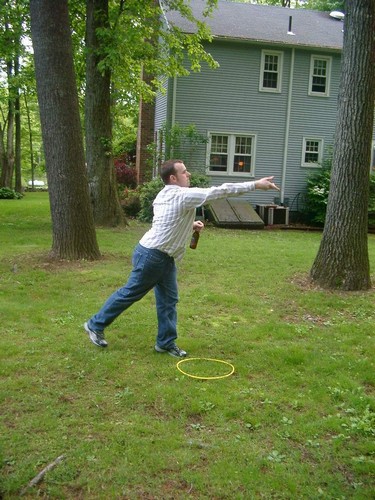 John says he tried to sell this set on eBay and they took down the auction! Apparently SOME people seem to think that throwing metal spikes around is somehow dangerous. Whatever!
Monday was a national holiday, Sophia's Birthday, so once again I had the day off from work. We started the day with the new Doctor Who episode, and then returned to Forest Park for some geocaching, which we hadn't done in a while! We decided to take Beebo along for the hunt, to see if he would perform better than the GPS (it was kind of a tie.) Becky was the first to spot the cache. Beebo actually did very well in the park, not really grousing at anyone and keeping a good walking pace. Cesar would have been proud of him!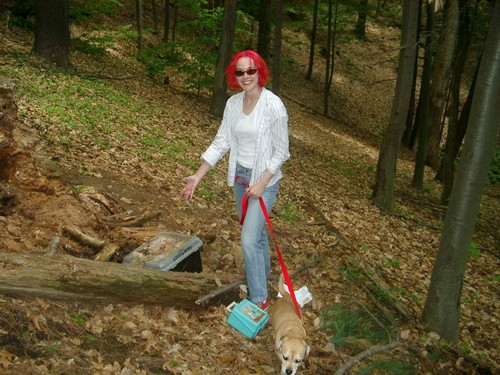 We returned home and did some yard work. Then I headed over to Mike's with Dan for board games. We played Age of Mythology, which I won due to a unique blend of luck and stupid luck.
In addition to all of the above, we also broke out some jigsaw puzzles and worked on those. I got some reading done, Becky did some sewing, and in general we had a very pleasant holiday. I keep thinking I'm forgetting something, too, in case all of that wasn't enough!