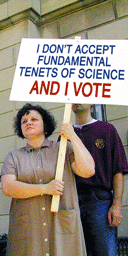 Excellent Salon interview with evolutionary biologist and atheist Richard Dawkins.
Still, so many people resist believing in evolution. Where does the resistance come from?

It comes, I'm sorry to say, from religion. And from bad religion. You won't find any opposition to the idea of evolution among sophisticated, educated theologians. It comes from an exceedingly retarded, primitive version of religion, which unfortunately is at present undergoing an epidemic in the United States. Not in Europe, not in Britain, but in the United States.

My American friends tell me that you are slipping towards a theocratic Dark Age. Which is very disagreeable for the very large number of educated, intelligent and right-thinking people in America. Unfortunately, at present, it's slightly outnumbered by the ignorant, uneducated people who voted Bush in.
Edited to add the graphic. I didn't make it and don't know who did. Please let me know if you do.