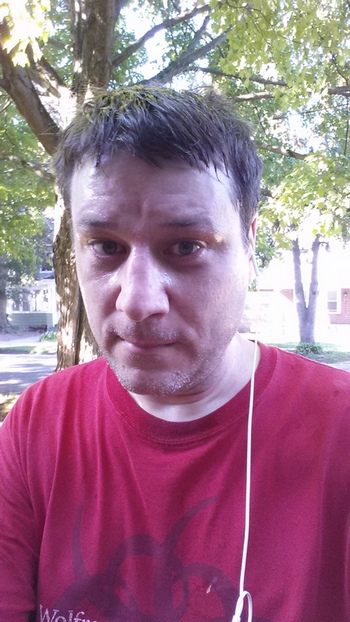 This morning was a big day for my ongoing Couch to 5K project. I finally finished Week Five.
When we last spoke, two months ago, I had finished Week One. After that I made slow but steady progress. For most of the weeks I did them fine but ended up repeating them just to make sure I'd be ready for the next one. Then I hit Week Five.
Week Five starts with alternating five- and three-minute jogs broken up with walking breaks. On Day Two, that becomes two 8-minute jogs. That one was tricky, and the second eight minutes were often tough (it didn't help that it was pretty hot those days, even in the morning.) And then, on Day Three, you do one 20-Minute jog.
Twenty minutes. All in a row. Previously the most I've done at a time were those 8 minutes from the previous workout. I was so not ready to do 20 minutes.
The first attempt I almost made it to 10 minutes. After that I would top out around 12, and sometimes could do more afterwards. I gradually extended the amount I could go at once, but it was a slow increase. On Monday of this week I went 16 minutes and then three more after a short walk break. This morning I felt like I could probably do the whole twenty and lo, I did.
I can finally move on to Week Six, which briefly brings back walking breaks before another extended jog, but I think on Friday I'm going to try the 20 minutes again. That will not only get me back on schedule, it will prove to myself that it wasn't a fluke.
There have been a lot of nice side developments. When I started this, my knees were hurting so much that I started to fear I'd done permanent damage to them. But then they just stopped hurting. My legs get a little stiff and sometimes I feel it in my shins, but for the most part I'm now pain free. For a while my Restless Leg Syndrome was acting up in a major way, as apparently exercise can aggravate that situation. It's now stopped again.
And there's this:
I've lost about ten pounds! I'd been hovering around 210 for ages and now I'm at 200, also known as a deciton.
Three months ago I could barely get my butt moving for four one-minute runs separated by walking breaks. Now I can do this. It's pretty amazing to me.