I'm back from HeroesCon in sunny as hell downtown Charlotte, NC. Friends were met, comics were bought, fun was had, and norms were freaked, though not like in 2013 when the con shared space with the North Carolina GOP Convention.
I saw a bunch of my pals from Twitter and elsewhere, and met some of them in real life for the first time. I also saw some old pals and enjoyed catching up with them.
I bought comics! I have not really been in a comics place lately but once again the convention rekindled my interest. I bought the following, which have been fast-tracked for consumption:
(Not pictured here are Kyle Stark's "Space Princess" mini, Catie Donnelly's "Space Jar", and Matthew Rosenberg's "We Can Never Go Home" #1. The bagged issues at the bottom are the Wild Dog miniseries.)
The big news for me is, I did some cosplaying!
I finally lived the dream of walking in my hero's boots. What I did not know was that his boots don't fit right and jacked up my knee pretty hard. But we all suffer for art, and what's more important, maintaining bipedal locomotion, or making a bunch of people wonder who the hell I was supposed to be?
The outfit was a hit with my friends, who all know the character of Space Cabby from my lack of shutting up about him. Not only will I talk about Space Cabby at the drop of a hat, I will also talk about my affection for Space Cabby. I got a thumbs up from my pals, and that was fun.
Apart from friends, only two other people recognized me (who said anything). One was Evan Dorkin, who did a sketch of same two years ago. The other was someone who was tabling and who's name I didn't think to catch, so blown away was I by being recognized. I had thought about bringing small prizes to give to people who recognized me; I would clearly not need many. One person at a booth asked me who I was and when I explained, he said, "Nope, never heard of him." This is a tragedy, DC, but I still don't want Keith Giffen writing the character any time soon. Maybe you need to consider this.
I didn't get too many photos of myself, but someone kindly took this for me:
HeroesCon does a big cosplay group photo on Saturday, and I took part in that. They moved it outside, which was nice, since you had dozens of people in synthetic fabrics baking in 90-something degree weather while various Deadpools and Jokers did "wacky" stunts and some guy proposed to his sweety. Eventually the photos got taken and I have no idea what was done with them, but my friend Christine took this: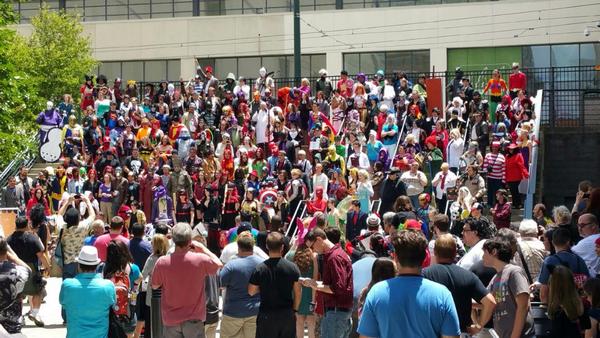 Can you find me in it? You can click on it to make it as large as it was hot.
I had an easy costume that no one cared about anyhow, but it gave me an appreciation for cosplayers who aren't The Joker, Deadpool, or Harley Quinn. It's hot, uncomfortable work, and even in the middle of a bunch of comics nerds you feel like a goofball, but it's still a lot of fun.
Gosh, what all did I do? I was in on a live taping of War Rocket Ajax with Tom Scioli! I ate crepes! I talked to Kyle Starks about my Fallout Shelter (more on that in an upcoming post). I brainstormed KEEP CALM shirts with Curt Franklin and Matt Wilson! I tweeted a photo of an outstanding Eternity costume that Kelly Sue DeConnick and Gerard Way retweeted into the stratosphere. I had pizza in an incredible new dining experience with three of the Two Guys from The Comics Alternative! I actually did my Couch-to-5K session on Friday morning! I took this horrible photo with Ken Lowery (can you tell who's drunk there? surprise, it's both of us!)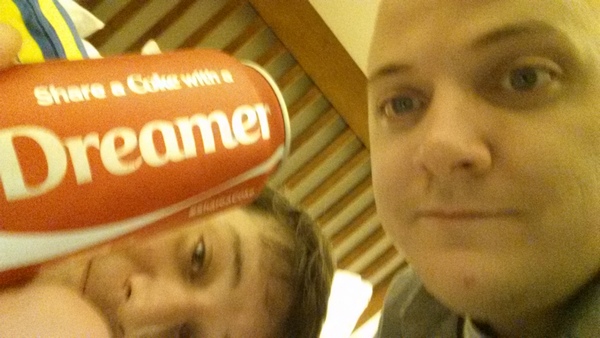 Oh, and I got some Space Cabby sketches that you'll see real soon!
Heroes was a lot of fun. And I crack on nerds a lot but it was very cool seeing fans of all races, genders, and ages all having a good time.