The first cars I remember my family having were a Yellow AMC Hornet station wagon and a white Ford LTD. These were eventually replaced by a Dodge station wagon and a Ford Grenada, respectively. The Dodge was junk from the get-go and was replaced by this, a 1983 (possibly '82, but I'm pretty sure '83) Toyota Tercel. (There may have been something else between the Hornet and the Dodge, but I don't think so.)
I learned to drive in the Grenada. When we went to my aunt's house in Vidalia, I took it on the back roads and long winding driveway around the property. But when I finally got my license, it was the Tercel I drove. Back then, when you filled up with gas and charged it — which I did often, much to my dad's dismay — you told them the license plate number, which is why to this day I can tell you the license plate on the Tercel was 905B567. (My friend Gene's white Maverick, which I also spent a lot of time riding in and filling up, was 644B898.)
I loved the Tercel. Not only was it "my" first car, it was just great to drive. There was nothing fancy about it, but it was a lot of fun. I knew where every inch of the car was at all times. Gene and I installed a tape player in it and one of those fake switches — a Death Ray — that were popular for a while went on the dashboard. I'm sure my dad loved also driving it.
This car essentially closed the book on this story. Although some items post-date it, instead of driving it to toy stores it went to record stores and, eventually, my girlfriends' houses. The days of action figures and robot toys were over.
This ended in the Spring of 1986. While driving near Lakeside Mall on Causeway Boulevard I got to this intersection: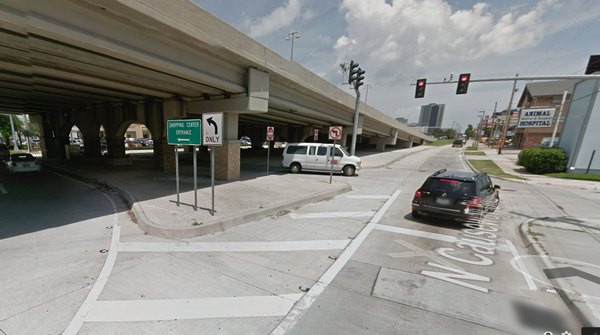 and hit another car. I swore he ran the red light; he swore I did. My dad an I went back several times and tried to time the lights and discovered that 95% of the time I would have had the green light, given where I'd started from.
It didn't matter. The Toyota was totaled. I was heartbroken. I felt like part of me had been ripped out. The trauma of my first wreck was nothing compared to the loss of my first car.
My dad replaced the Toyota with a Nissan Sentra, which I hated. As a sham replacement it had little chance to begin with, but being an ugly maroon color didn't help, not did literally breaking the day after we got it. I drove it over to Gene's house to show him, talked to his grandmother for a minute since he wasn't home, and then wen to leave and it wouldn't start. The ignition had busted and it needed to be towed back to the dealer. This was only the first of many misadventures with this cursed thing, which I later inherited when I went to college. I drove it all through my time at LSU and despised the thing, leaving it unlocked so someone would steal it.
This piece of junk served me until I got my first job out of college, at which point I gave it the heave-ho and bought my first bought-by-me car: a red Toyota Corolla.
When did I get it? It became "mine" in 1984.
Do I still have it? I carry it in my heart.