Monday morning Becky was listening to the first Belly CD, Star. Belly was Tanya Donelly's band after she left Throwing Muses. It's a great album (as is their second album, King) and before long I was under a Belly spell. My This Is My Jam for Monday was "Dusted" from that album.
It's such a great song, and it inspired me to thank Ms. Donelly for the music she's made, and we saw how that turned out.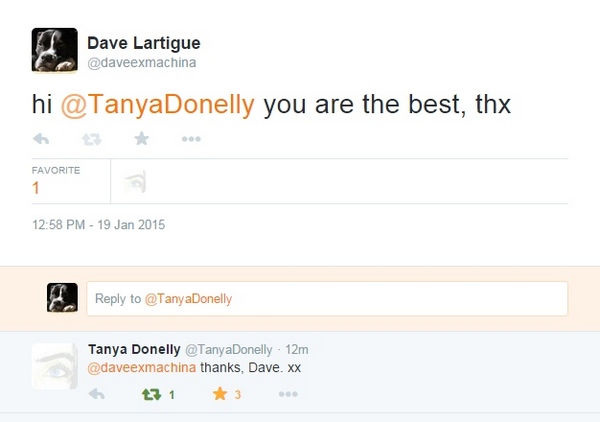 After printing out that tweet and framing it, I declared a Tanya Donelly theme week on TIMJ, and here are the results.
Tuesday was "Pretty Deep" from Tanya's 1997 solo album, Lovesongs for Underdogs.
This is a live take. The official video is here.
Wednesday's track was "Hellbound" from Pod, the first album by The Breeders. Tanya was a member of The Breeders originally and co-wrote this song.
Several of my Twitter pals suggested Throwing Muses Thursday, so that's exactly what I delivered. Here is "Not Too Soon" from The Real Ramona:
For Friday, I wasn't sure where to go. I had a Throwing Muses track, a Belly track, a Breeders track, a solo track…what else should I include? Then pal Andrew reminded me of this gem:
That's from the Saturday Morning Cartoons' Greatest Hits compilation from 1995, and it's incredible.
So: Tanya Donelly, everyone. This theme week may be over now, but my motto is to live every week like it's Tanya Donelly week.