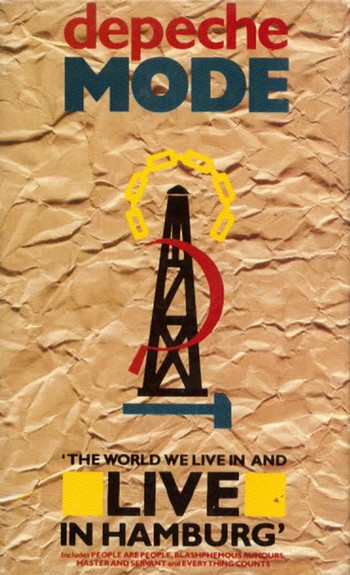 Mentioning this item is probably overkill. The band Depeche Mode and the influence it had on me growing up has been well covered multiple times, so I don't know what more I can say here that will add much.
Sure, I had posters of Star Wars, Star Trek, The New Teen Titans, and such, but I'm pretty sure this was the first (arguably) non-nerd poster I had. It was a grail to me. About the size of a duvet, I goggled at this thing for some time at uptown New Orleans record store The Metronome before finally splurging on it. From then on, it was my pride.
I had two other Depeche Mode posters before I was done. One was a picture of the band and one was a combination of the Broken Frame and Construction Time Again album covers. On that first album cower a woman is harvesting wheat with a sickle; on the second a man is breaking rocks with a hammer. I was worried that the band poster would help my mom assume I was gay, but it turned out the second one bothered her more because Communists wanted to destroy us and our way of life.
When I went to college in Lafayette for a couple semesters it came with me (I don't remember it being in my room at UNO. Possibly I hadn't bought it yet?) and hung over my bed. The combination of its size, mandated use of fun-tak for the dorm walls, and the lack of air conditioning meant that on more than one occasion I awoke in my bed to being smothered by Depeche Mode. The first time it happened it scared the bejeezus out of me.
This poster is actually advertising a videotape of a concert and I'm not sure I ever actually bought the actual thing. In 1986 I madly wanted to see them on the Black Celebration tour. I informed my parents I was going to go see them at their closest stop, in Texas, and talked about this as though it were a done deal. It wasn't, of course, and a hurricane even popped up and headed towards Texas as if to underscore the point. Somehow I didn't attempt to soothe this disappointment by instead grabbing this concert video. I wouldn't see Depeche Mode live until the "101" tour. (Long time readers will know another reason why actually getting the tape wasn't a priority. I could listen to a record in my own room, but a videotape meant watching in the family room.)
Not every band I liked got the poster treatment. In fact, the only other one that saw a lot of wall space was The Jesus and Mary Chain. There was the obligatory blue doorway Beatles poster. I also had an REM poster I had forgotten about until just now, which I don't recall too much about, and not enough to find it in a Google search. I never had a Shriekback, Cure, or New Order poster.
When did I get it? The videotape was released in 1985. It's possible I didn't get the poster until early in 1987, though.
Do I still have it? I thought I did, but it's not in the attic where it would be. That kind of makes me a little sad.