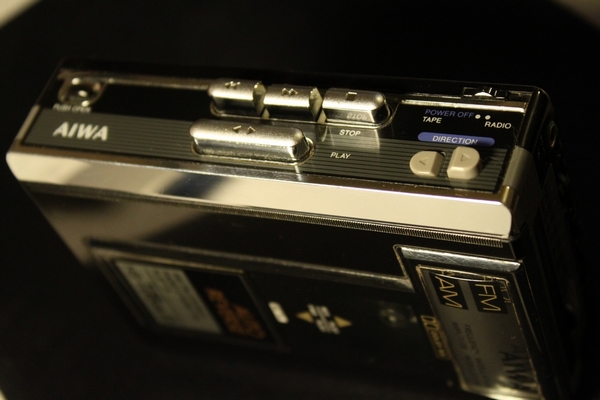 This installment of "I Had That!" (the halfway point, it should be noted) might be more aptly titled, "I Think I Had That?" because I'm not 100% certain this is in fact the item in question: my first portable tape player.
Actually, I know for a fact it wasn't. That honor would go to a bulkier thing I had, probably a Radio Shack model, which I listened to a small collection of movie soundtracks on (Star Wars, Empire, Raiders, TRON, Close Encounters). But when the Walkman hit, and hit hard, and everyone wanted a small personal tape player, that one got replaced by a more pocket-friendly version.
I'm pretty sure the one I had was an Aiwa. And this looks like the model. A search on the model number reveals it was released around 1985, which is absolutely on point. I'd love to find the original retail price, but no luck so far.
1985 would be around the time when I really got into pop music. I'd had the radio, and a few albums I owned, but with the discovery of Depeche Mode, I began seeking out new music, expanding my horizons. In a short time I was buying albums by New Order, Pet Shop Boys, Devo, Icehouse, and more. And this was what I listened to them on at school. The radio was usually set to WTUL, Tulane University's station which was the home of alternative music in New Orleans. I distinctly remember lying on the sofa in the G/T (Gifted/Talented, and that's another story) room and hearing, for the first time, "Nemesis" by Shriekback played on WTUL. This was also the home of the first few Cool New Music Tapes.
The Aiwa was augmented by a Radio Shack tape deck in my car, which I'm pretty sure was not acquired through normal channels.
At some point the tape player fell and broke, which was devastating. It was replaced, but I remember not liking the replacement as much. It wasn't as solid and aesthetically pleasing as the Aiwa. And eventually that would be replaced by a jambox, especially in 1987 when my first CD player came along.
Incidentally, the last I remember of the Radio Shack tape player was when I started at the University of New Orleans and went through the motions of being a proper college student, including taping lectures as though I'd listen to them again. I was taping and there was this horrible squealing sound in the auditorium. I looked around trying to figure out what it was, and only too late realized it was my tape player devouring the tape in it. Everyone else had already sussed this out and was wondering why I hadn't. I shut it off and was mortified. Thankfully I soon after stopped going to classes and flunked out and spiraled into crushing depression.
When did I get it? 1985 sounds about right.
Do I still have it? I don't. I probably kept its broken corpse for a while but eventually got rid of it.