On Saturday I headed down to Stamford, CT, for ConnCon, a gaming convention. I'd never been there before, though I'd thought about it a couple of times. This time I knew some folks who were going to be there an decided to take the plunge.
I drove down early Saturday morning and arrived around 9. Not seeing anyone I knew, I met up with a guy who was an old-school Knizia fan. We played Carcassonne: the Castle as a warm-up, and then a friend of his joined us for Ra, which I hadn't played in ages. Though I like trying out new things at these events, it was also cool to meet some new people and play some favorites. I've gotten a lot less interested in trying the new hotness, especially now that the new hotness usually isn't my kind of game. Those guys then headed off to play something I was less interested in and I looked for folks I knew.
I found pal Jim C., who was setting up Eldritch Horror, Fantasy Flight's new streamlined version of Arkham Horror. I've only played Arkham Horror once, and I liked it okay, but I liked Eldritch a lot more. It's less fussy and more dynamic. It's also hard as hell, or we were just spectacularly inept. We lost the game, which is why Azathoth descended upon the world around 3pm on Saturday. In addition, I killed off two of my characters. Note that you only play one at a time. I killed my character, then killed her replacement. So if you need someone for your unspeakable horror task force, well, I can work the coffee pot, I guess?
By this time I saw a bunch of folks I met at Trashfest last year, but they were already involved in games. I headed back to the main room and a prototype caught my eye.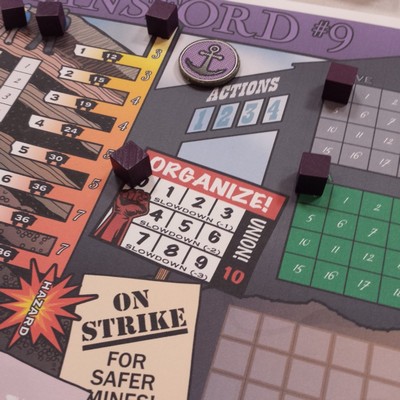 The game was called Black Diamonds and it's a heavy economic game about running an anthracite coal mine in Pennsylvania. You have to develop your mine and mining town, do mining, get your results to market, hire miners, and other things, all while making sure your miners don't get too unhappy or dead (which also makes them unhappy, go figure). I started out with a mining disaster right out of the gate, which made me safe up my mine so it ran pretty well (if far under capacity) for the rest of the game, until the end when I once again killed a bunch of miners. I came in a distant third. But more importantly, I thought it was a great design with a lot of promise. The historical accuracy helped develop the theme without being too intrusive, and you really got a sense of narrative going on. I also liked that the story included the miners as well and the rise of organized labor (this is what caught my eye in the first place.) I told the designer, Geoff, that I was interested in the game and would be keeping my eye on it. If it went on Kickstarter, I'd back it. I think we still has a little bit to go with tweaking it, but I'd say he's very close now. He offered to send our group a prototype kit, which I'm excited for because I think several of the folks I game with would enjoy it.
I finished out the day with Kolejka, a game I was happy to teach because I think it deserves more love and attention. I did an okay job of teaching, and the folks playing got into it. The game went down to the wire, with only one good left on a delivery truck. There was a crazy fight at the furniture store, which is what three people needed to win the game. I was close but got shut out at the last minute and the win went to one of the others. They seemed to really like it and talked about buying it for themselves, so I was glad of that.
It was about 10pm by now and although I wasn't too tired, I knew if I started something else I'd be looking at midnight or so before I left, and still had a two hour drive home ahead of me. I hadn't ridden down with anyone, so I figured it was best to take off before I got exhausted.
ConnCon was a lot of fun and will probably become a regular thing for me. I had a great time.