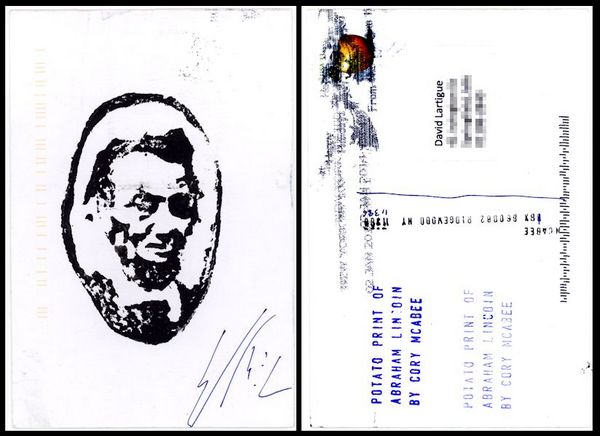 Cory McAbbe is a musician, filmmaker, actor, and artist that my pal James got me into. I've seen his movies The American Astronaut and Stingray Sam, both of which are musicals, and enjoyed the movies and the music. He's talented, fun, and personable as hell. When I heard he was kickstarting a graphic novel named Rabbit I was more than happy to pledge.
One of the rewards for backers was, "An original potato-print postcard of Abraham Lincoln, hand-carved and printed by McAbee, sent to you by the US postal system (for US government date verification)" and sure enough I got mine in the mail not long ago (the US government verifies the date it received it as Jan 02).
Tell me you've seen a better potato print of Abraham Lincoln, one that celebrates not only the man portrayed but the potato which portrays him and sir, I'll call you a goddamn liar.
If that's not enough for you, here's the song "Mars" from Stingray Sam performed by McAbee's band, The Billy Nayer Show.
Man, I need to watch that and The American Astronaut again. And I'm looking forward to Rabbit!
—
This post is sponsored by Liberty Chew Chewing Tobacco. Liberate yourself with Liberty Chew tobacco and join the tobacco chewing liberation!