When I was looking at topics to do a year in review of, I didn't think of comics at first. I buy them from DCBS every month, and I read them all the time, but I didn't think I'd been reading as many as I should and I didn't think I was talking about them much at all. But when I looked back, I realized this was not the case, and I felt a little better. Now, I still want to read more, and I've made efforts to that end already, but I was pleased with where I got this year.
CLASSIC REPRINTS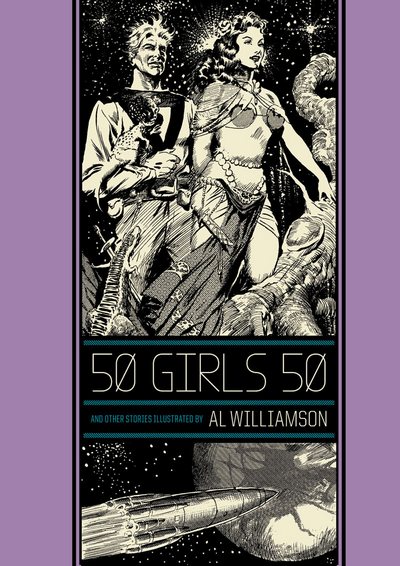 My stack of unread Showcase Presentses gets perilously higher and higher, even though I tried to slow down on buying them and speed up on reading them. I did finish Rip Hunter: Time Master, which I loved, but I need to get cracking on the others. I also have a ton of Judge Dredd phonebooks to start on.
I finished the second Pogo collection and it was pure delight. Just a phenomenal strip in every respect.
I also dove into a bunch of EC Reprints. Fantagraphics has been doing a lot of writer/artist themed ones that I've been grabbing, such as 50 Girls 50, spotlighting Al Williamson and Child of Tomorrow, which focuses on Al Feldstein (and features fan-favorite character, The Secretary of Defense. I also got volumes 2 and 3 (what happened to volume 1?) of the hardback Weird Science collections. These are great stories, smartly and maturely told, despite some idiots' insistence that telling such stories in fewer than four issues is not possible. The Wally Wood volume is up next, and I have a couple more on order.
ARTSY SCHMARTSY AND INDIE SCHMINDIE
I read my share of Important Graphic Novels, but not as many as I probably should have. I've kind of fallen behind on these things, though.
Stitches by David Small was amazing. He manages to take a bizarre and singular personal experience and make it into a story of triumph that anyone can relate to. This one got a lot of praise when it came out, and echoed it.
Jason came out with Lost Cat, and I loved it because I love everything Jason does.
I really enjoyed Peter Wartman's Over the Wall, a coming-of-age story that manages to be all-ages (and girl-friendly) without alienating older readers. I really recommend it.
CURRENT-ISH POPULAR(-ISH)
I read almost zero monthly comics these days. Even mainstays like BPRD are on the chopping block for me (I've just lost interest in this huge story.) I still get Hellboy and Usagi Yojimbo trades, though I'm behind on both, as well as Oni's Wasteland.
I did, however, go on an Atomic Robo spree this year, which was a lot of fun, and I need to get caught up on that as well.
I also grabbed some of Monkeybrain's digital offerings. Subatomic Party Girls was right up my alley, being as it's a comic about a pop music "girl group"…in space. I also enjoyed BOO! Halloween Comics, a horror/comedy anthology from Jon Morris with a bunch of creators I know, which didn't bias me because it was still rockin good comics. Speaking of internet pals, I also bought Benito Cereno's Hector Plasm books and loved them.
When I went to HeroesCon in July I picked up some good stuff, including minicomics and books by yet more pals: Jordan Witt, Kyle Starks, Joe Hunter, Catie Donnelly, Jordan Neves, Luke Herr, and more. I enjoyed the lot but let me tell you, Kyle Starks' The Legend of Ricky Thunder is a hoot and a half. Get it.
I also picked by Red Handed: The Fine Art of Strange Crimes by Matt Kindt and I enjoyed it so much I picked up some of his series, Mind MGMT.
(I also bought volume one of Brian K. Vaughan's Saga there and really wasn't moved by it, though others have said it gets much better in volume two.)
FRENCH SCIENCE FICTION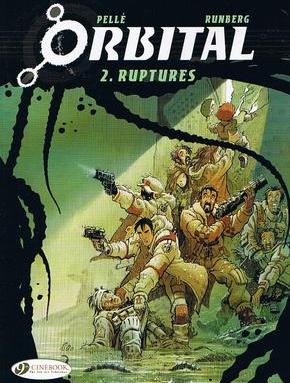 I got on a weird kick courtesy of Cinebook, a publisher specializing in English translations of European series, and found myself swimming in French sci-fi comics. This started with Orbital, which I liked a bunch. I also bought Aldebaran and its sequel Betelgeuse (I'm waiting until I have all of the third part, Antares, before I start it) and liked them well enough despite mysterious undergarments. Valerian and Laureline completes the set, with more off-the wall, action movie adventures. I'm looking into more series like these, as I really enjoyed all of them.
KICKSTARTER
I backed a bunch of comics on Kickstarter, often projects by pals of mine.
Bingo Baby, by the collaborative group at Penny Lantern, is a cool idea. They played the RPG called Fiasco and then wrote a comic around what happened. That isn't what many of you may be thinking of: this isn't "D&D Stories: the Comic", but a smart tale of folks trying to get by though the odds are against them. It's a great read, and you can get it here.
I was pleased to finally be able to read more Runners. Runners: The Big Snow Job was a fun and beautifully drawn sci-fi story. You can order a copy of your own here.
Finally there was Like a Virus by Ken Lowery and Robert Wilson IV. This is a quiet, thoughtful ghost story that comes at the problems of death and life and their intersection from several different angles. Wilson's art is sharp and it's a fine book. I'll let you know when you can buy a copy if you didn't back the Kickstarter.
So there you go! I did all that and it still didn't feel like a lot. I plan to do much more in the upcoming year!