Let's once again look at my incredibly inaccurate and unimpressive blog stats for 2013, along with some of the highlights of the year.
January
5839 unique visitors. We start out with the most popular post of the month, where I reviewed Mail Order Mysteries. I prettied up my board game. I said why I didn't like Moriarty and Moriarty-like characters. We started watching the Hermione Granger movies. I went to Unity Games. We visited Peru:
February
5480 visitors. I read all of Achewood. I sorted Legos. My first nerd-bashing of the year looked at how fandoms that largely appeal to women are derided even as male fandoms commit the same or worse "sins". I then created the Big Damn Frakkin' Nerd Shirt which got Tumblr love but zero sales (and still holds steady at zero, by the way). Big post of the month was me spouting off over Orson Scott Card. I introduced and started Electronic Games Sunday, then got tired of it and quit. I continued to get trolled by Will Shetterly. We finished the Harvey Porter Octology. I looked back at my notable board games from previous years. I started making a board game.
March
3268 visitors. Most popular post was the first of the month, where I yelled about the government on Twitter. The Orson Scott Card thing got stupidly resolved. I backed a Kickstarter. I was disappointed in Michelle Shocked. I looked into the creative magic of Neil Gaiman. A videogame gave me a moment of genuine pathos and sadness and therefore they are art.
April
3370 visitors.I April Fooled people into thinking the board game I had been making was already bought by a company. My post about Roger Ebert's death got the most hits of a lean month.
May
2658 visitors. I complained about nerds some more. I remembered my "Let's Look at the Record" feature. I took a Google Maps view of the future post-apocalyptic world. I tried some beers. My questions about Aldebaran and its bizarre bras was the most popular post of the month. I found out I inspired Space Cabby appreciation in someone else! I got a iPad, Cappy got a stick.
June
2207 visitors. Topless Smurfette got the most hits. Boy, I didn't like The Social Network. I went to HeroesCon and got a bunch of Space Cabby sketches, including Evan Dorkin and Scott Wegener. I for real was told to "love it or leave it". I solved a Mystery of the Eighties. I remembered my "This Used to Be the Future" feature.
July
2426 visitors. We have fun on Twitter. Cappy tried a lime. We have more fun on Twitter. I finally talked about what I thought might be something pretty embarrassing. The board game design thing ended. A guy on our street threatened a cop with an axe.
August
2330 visitors. We discussed how to get your dog to swallow a submarine. Becky and I "celebrated" our 20th Anniversary. I didn't see Adam WarRock in Northampton. For my birthday, an old friend drew me a Space Cabby. I went into Low Content Mode.
September
1564 visitors. I complained about a Twitter change, to no avail, as this idiotic thing is still with us.
October
1816 visitors. The end to my hiatus was delayed by swelling. I began talking about my weird musical memories of the 70s, which I thought would be more interesting than it has been. I wrote a poem about cheese. More Twitter fun. I once again rail against "nerd culture". I announced and then promptly seemed to abandon Five Songs. I may get back to that, I don't know. I thought I had been betrayed by candy but I wasn't.
November
1994 visitors. I did some legoing for the first time in ages. I introduced you to the Secretary of Defense. I went to Trashfest Northeast. I did the math. I played the Pathfinder card game. I began my own fan-fiction, The Final Volume. I enjoyed the Doctor Who 50th Anniversary Special.
December
2279 visitors. I did only the most basic legal definition of Novvember. I complained about air travel, and I'm not done yet. I listed my Top 12 Board Games Ever (part two), some of which surprised even me. If you send me a book, I really will review it! I justified buying something I wanted as learning some kind of lesson. I started drinking tea (I'm drinking some right now as I write this. I still don't like it much.) We This Used to Be the Futured some more.
—
So I lost a bunch of readers, which isn't surprising. It was a rough blogging year, and it showed.
Here are some search terms that a few folks thought I might know about.
hermes boomerang
This is my third-favorite sex act.
lydia stalnaker
She wields the sacred Cross of Antron!
shitting like a pet coon expression
It means shitting, like, a lot.
cabby the hero big game
If you've found a comic where Space Cabby wins the Superbowl, please let me know ASAP.
spring my ass
My fourth-favorite.
what do you need to make a bottle rockets go higher
A taller bottle?
wrist slitting diagrams
If this is you, please seek professional help. 1-800-273-8255
items/things with a pentagon shape
Make up your mind: do you want items, or things?
zippy zo interplanetary clown
You can't find him because it's Zeppi-Zo.
automatic lego colour sorter
did you know that more murders are committed at 92 degrees
I did know that, thanks!
dungeon quest strategy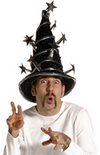 Yes, may I help you?
how long is 4mm kidney stone
Just under 0.005 meters.
raiders vacuum meme
Don't know, don't want to know.
As always, thanks for dropping by! I'll try to do better this year!