It's strange that after some solid memories of 1975, there isn't much I can say about '76. I certainly know a lot of the songs, but I don't have nearly as many specific memories about them. 1977 also has a bunch going on, so this is a weird dead zone for me. Still, there are some songs of note.
This is the year of Frampton Comes Alive! but as I was only eight years old at the time, I did not qualify for a free copy under the Suburban White Kid Music Act, I don't know if my sister had it or not. I don't remember her as being a huge Peter Frampton fan. She was, however, a big fan of Barry Manilow, here with "I Write the Songs" (#13). How big a fan? Barry Manilow's favorite breed of dog was the basset hound and I know that because Carol knew that.
My sister also was a big fan of the TV show S.W.A.T., the theme of which is at #29. Similarly, the theme from Welcome Back, Kotter is at #58.
There are a lot of novelty hits here. Rick Dees has "Disco Duck" (#96), signalling the beginning of the end. Larry Groce has "Junk Food Junkie" (#93) which was on a collection of such songs that I got for Christmas and me and my friends listened to constantly (we also loved "Snoopy Vs the Red Baron"). And then there's C. W. McCall's "Convoy" (#57) which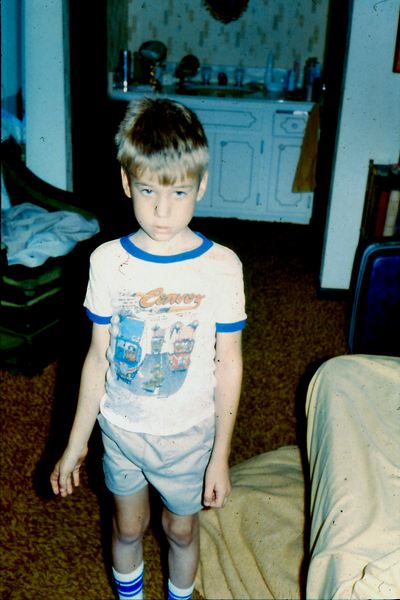 yes, I was aware of.
As before, there were songs here that creeped me out, including one of the grand-daddies of them all. Like everyone else, I had heard the absolutely true story about how the scream in the Ohio Players' "Love Rollercoaster" (#30) was actually a person getting murdered outside of the studio (it's at 2:32 in the linked video). Needless to say, that gave my wuss-ass the frights. Another song that spooked me from 1976, but which didn't make the top 100 chart, was "Beth" by KISS. This is a pretty tame ballad, so I don't know what it was, other than the general creepiness of KISS itself, and maybe the lines, "I think I hear them calling / Oh Beth, what can I do?"
Other than those, I just have general memories of hearing "If You Leave Me Now" by Chicago (#48), "Don't Go Breaking My Heart" by Elton John and Kiki Dee (#2), "Dream Weaver" by my nemesis, Gary Wright (#37), "Play That Funky Music" by Wild Cherry (#5), "Let 'Em In" by Wings (#66), and that seventies staple, "Afternoon Delight" by the Starland Vocal Band (#12). Of that last one, an ex-girlfriend once said that when she was a kid she loved that song because she thought it was about eating ice cream in the middle of the day! Isn't that the cutest thing?