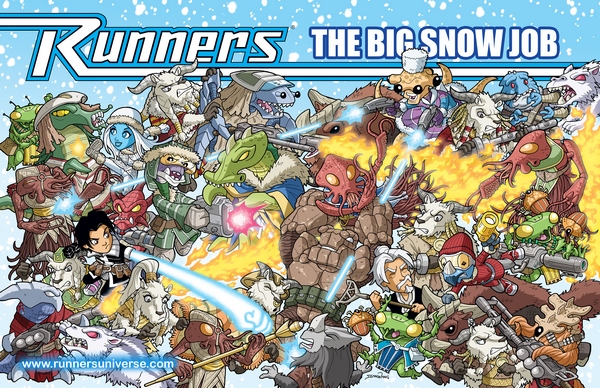 Remember when I backed a comic on Kickstarter for (I think) the first time? That comic was Runners: The Big Snow Job by Sean Wang, and I got the PDF a while back. My backing level also included a PDF of Runners: Bad Goods, so I re-read that and then dove into the new one. And folks, it's a lot of fun.
Science fiction doesn't really do a great job in modern comics. It's often either licensed-property driven or swathed in the usual dour, joyless, ever-so-serious malarky that plagues so many modern mainstream comics. Runners, however, is a fun ride, and while there are definitely touches that will remind you of Star Wars or Firefly, I think it mostly pulls its own weight. I love the artwork, too! (It's less cartoony as the image above, but still quite playful.)
Now you're wishing YOU had backed the Kickstarter but all is not lost! You can now buy your very own copies of these books from Sean Wang's website! I got the PDFs and can verify that they look and read great on a tablet.
If you're looking for a fun, exciting, and attractive sci-fi comic, then you need to…RUN…to Sean's website and check out Runners. You'll be glad you did.