I first discovered 'Found' magazine online at their website. No idea what initially linked me to it. Take a moment to browse that there link…it's really fascinating.
For my readers who cannot tarry, I'll explain what it is. People find stuff — notes, photos — and send it in. This magazine/website publishes it. Some of the stuff is funny. Some of it's weird. A lot is scary. Some of it makes you wish you had the rest of the story. The photographs especially have a haunting quality to them.
From the website I found the magazine, and now the book, which is highly entertaining.
Of course, when you take an interest in such a thing, you begin to seek out your own finds. The first one I really found interesting came from Lowe's here in Springfield. It was laying on top of a stack of build-it-yourself particle-board furniture. It hails from about a year ago, but is still topical, given the current debate here in Massachusetts.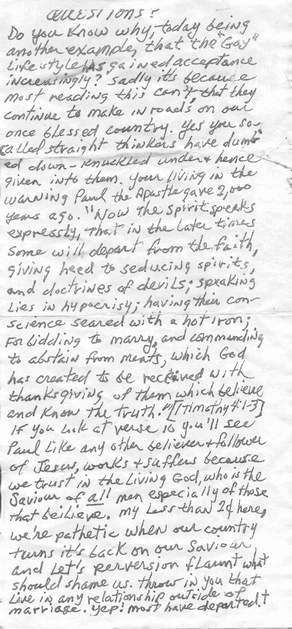 Interesting, yes, but not so much that I went out of my way to send it in.
Well, this weekend while we were in Champaign, we were having lunch in Zorba's on Green Street with Dave and Vicky, and I mentioned the Found book. Not a half hour later, as we were walking away from the restaurant, I found this gem on the ground in front of the corpse of Record Service: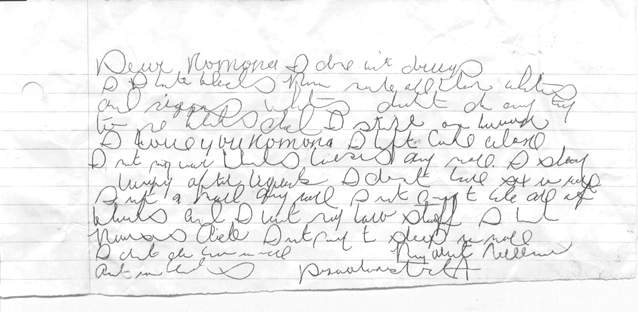 It seems to begin with, "Dear Romona I done with drugs," and you can make out a few more words, but I think either he's not quite done with drugs or the drugs aren't done with him. Legibility seems to come in waves, though none of those waves crest very high. You're welcome to send in translations if you think you can read it.
I'm sending this one into the mag, but you folks get to see it first. I thought it was particularly serendipitous that I found it at just that moment. Bam, lying on the sidewalk in plain sight.