This Saturday was Unity Games XIX, the annual all-day boardgaming event my friends and I look forward to so much. This year the event moved to Danvers, making it even further away from us, but they aren't running away fast enough because we still attended.
As usual there was a math trade and auction on Boardgame Geek so that people could make exchanges at the event without having to pay for shipping. I skipped the math trade (and so did a lot of folks it seems) and went straight to the auction, where I sold $240 worth of pudding games. I only bought two things, so I made a pretty good profit, as long as you ignore how much I spent on them in the first place. My wins were
Last year I made a list of games I wanted to try out, and I repeated that this year, but with this year's list I tried to stick solely to things I knew people were bringing (there was a list on BGG where people could request things to be brought or say what they were bringing.) As a result, nearly every game I played was one from my list.
I rode up with Bryan and Jim and we met Matt and Al there. (Other pals of mine: Eric, Justin, Bob, Kiri, and Ken I'd see later on.)
Matt, Al, Jim, and I started out with Love Letter, which I had played before (and Jim owned) but Matt and Al wanted to try out. This is a great little game played with only 16 cards, yet offering a surprising amount of fun. Matt and Al were the strong early favorites for the princess' charms, but soon we all had a shot at her, and I was able to finally win the fickle dame for myself. I really want my own copy of this, but it's almost on permamnet sell-out everywhere.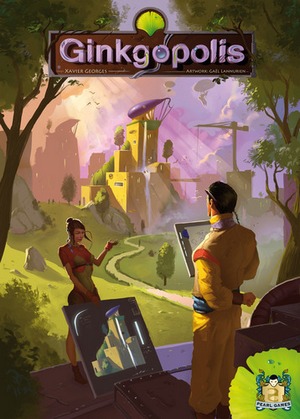 Next, Bryan joined the same four of us for Ginkgopolis, an attractive little city-building game. I've been looking for a good city game for some time, so I wanted to try this one out. It was a good time, and I'm thinking I might buy it, but the theme isn't quite there as far as city-building goes. I don't remember who won this one.
It was lunchtime and we headed off to the hotel bar for a bit of sandwiching and a taste of beer.
One of the things I enjoy doing at Unity is teaching games and this year I volunteered to demo Lords of Waterdeep, which you may recall I kind of like. I arrived at the teaching area with a full compliment of players (plus one) eager to learn the game, and got them started on it. They were a smart and eager bunch and before long they were flying along on their own, with me only offering some minor hints and helping with the minimal bookkeeping. I think they all had a good time with it.
Matt found me as Waterdeep was wrapping up, and I joined him, Al, and Jim for Wiraqocha, a game I knew nothing about but had on my list because it seemed interesting. Interesting it was, as well as really attractive; people kept stopping to ask us what we were playing. It's a weird little game of exploration and exploitation, with some nasty meanness added in. I'd like to play it again but I'm just not sure about it. Matt ended up winning because we didn't stop him from gaining an utterly brutal combo going.
The same four of us then tried out Suburbia, speaking of city games. As we started in on the rulebook, Justin and Ken showed up and Justin taught us how to play in five minutes. This one was more thematically city-building, but also full of calculations and recalculations. Matt won by a pretty large margin. I liked it, but word on the street is that it's coming out for iPad and I think that will probably be a better medium for it.
By this time I was pretty hungry, but we didn't want to waste time heading out to find food, so we went back to the hotel bar and restaurant. Of course, everyone else had this idea as well, and it ended up taking longer than if we'd just run out and grabbed fast food somewhere. Still, we had fun hanging out and chit-chatting, so it's not like time was wasted.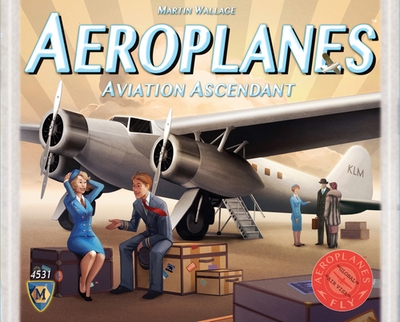 The final game of the evening was Aeroplanes: Aviation Ascendant, which was a Martin Wallace transportation game. It was late and we were tired, plus as soon as we opened the rulebook a group of people started playing Pit next to us, which is a game where you loudly shout numbers at each other until someone rings a bell. It was tough hearing and focusing on the rules (which also had some weird phrasing issues) but I think we got it right. It's pretty clear that the game is not well suited for three, as it played really weirdly and I ended up squeaking out a win I really hadn't played thoughtfully enough to earn. I'd like to see how it goes with four or five players, but it's not a huge priority for me.
That was the end of Unity Games XIX for us, but because we were now out in Danvers, Bryan, Jim, and I had decided to get a room at the hotel so as not to make a two hour drive back at midnight. That was a great decision; if we had driven back, we would have died, I'm sure. So we headed back and despite us all having loads of new games we were too beat for any after partying and instead dropped off to sleep.
Unity was a lot of fun, but the associated frivolity isn't over yet. Not only do we all want to try out our new games from the trade and auction, an order is going in for things people now want to buy. I think I'm down for a copy of Ginkgopolis!
Would you like to experience the magic of Unity Games yourself? One of the organizers took a short video during the event:
Around the 0:26 mark you can see me, Jim, Bryan, Al, and Matt playing Ginkgopolis!
PS: The games on my "to-play" list that didn't get played: Mice and Mystics, Archipelago, Starship Merchants, Qin, Escape: The Curse of the Temple, Uchronia
PPS: You can read about the games that were new to me on my ongoing New (to Me) Boardgames in 2013 list on BGG.