Finally, let's look at the usually-unreliable-and-always-humble stats for this blog.
Here are the unique visits per month:
January: 4587
February: 5092
March: 4790
April: 8641
May: 5841
June: 4213
July: 5097
August: 4892
September:5242
October: 5316
November: 4050
December: 5251
That's up from last year, so yay! What was happening during the year?
In January the most visited post was one where I talked about Lord of the Rings Legos. I'm not sure why it got attention, because it wasn't anything particularly new or insightful. Besides, the real star of January was the return and this time I meant it of This Used to Be the Future, featuring the history of beloved weapon Ray-Gun 64.
I can only assume that someone linked to this image at some point because otherwise, again, I don't know why it would be the top post of the month. What should have been top was the exciting debut of regular Project UFO blogging which quickly got as tedious and uneventful as the show itself.
In March I got to be a hateful intolerant liberal poster boy when I wasn't all curled up and sobbing over the death of Andrew Breitbart.
This also earned me a comment from "you suck hard" who offered to put a bullet in my pea-sized brain. He also called me a "fagot" because of COURSE he did.
The top post for April was the top post of the entire year, and it was my Lego color sorter, which got linked to on The Brothers Brick and a Hungarian Lego site, among others.
Also in April I made some big changes to the blog, including a new template and no more comments.
The big story in May was the search for and discovery of a long-time white whale of mine, a music video I remembered bits about but couldn't place. For years I've wondered what it was, and a lot of folks did what they could to help me find it.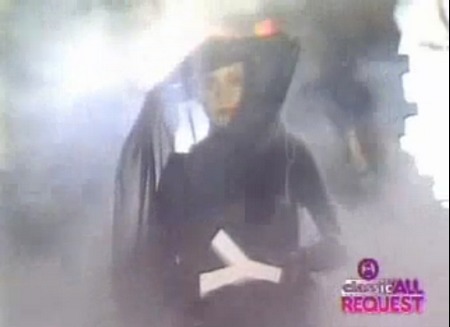 My review of Prometheus topped the charts in June, as it got linked to on a couple of forums.
In July I celebrated the 10th Anniversary of this blog. The top story of the month was an essay in which I challenge the "no superpowers" claims of Batman. It was linked over on Slacktivist as a "Smart People Saying Smart Things" which is quite flattering.
The top post for August was me talking about Fallout 3, but not in any particularly interesting way. No idea why this post got more hits than any other for the month, except for the obvious fact that some post has to get the most.
In September I clumsily tried to argue that the "nerd" subculture is classist. I still think it is, and how, but I didn't really express my point well there.
While overwhelmed with work one day in October, I posted a link to an Italian song about Wes Anderson. That got more hits than anything I did that month. Which, honestly, is about right.
November saw me just run out of blog steam and coast a bunch. However, this photo of yours truly brought in some hits.
And again in December, a busy work day had me reposting this translation of an REM song by none other than Geoffrey Chaucer. I got linked from people who were just as impressed and amused by it as I was. I tried to make it clear that this was not my work and pass off credit and linkage to Chaucer himself, but I don't know how successful I was.
Finally, let's see what search terms brought people to my site.
ass videos
"running on the rocks" meaning language shriekback
It's Sanskrit and it's from the Upanishad (probably by way of Eliot's The Waste Land).
diagram of a circle labeled
worst publisher comics antarctic press
Google should just return the word "yes" for this.
nerd culture is stupid
mr t illuminati
go sail away
"something something statue something"

The search engine that can find what you want based on that phrase will get my business forever.
This next one is a single search phrase.
after the abduction of his brother kotaro by the machine empire, teppei takamiya joins forces with x, one of several highly-advanced, artificially intelligent machines known as b'ts (pronounced 'beat'), to rescue him.
You won't be surprised to find out it's looking for some manga.
frustrating conversation
lego poop
most patriotic shirt
what dose made from 100 % recycled awesome mean
"tv show" "episode" "car won't start"
Ah yes. The old "episode" of the "tv show" where the "car won't start" if you know what I mean, hint hint.
"i don't believe in christians" -jay
Siri, who doesn't believe in Christians? I mean, other than Jay.
an ad for a movie
Google, show me…an ad…wait!…for a movie.
are geocashers bad people
ass scratcher images
amy and rory didn't get the farewell they deserve
I agree with you but probably not in the same way.
castrated by a bull dyke fiction
cool parentheses
doritos cat petition
No, I don't think "cat" should be a flavor of Doritos.
dr who rory review honest
dungeonquest review oh god my legs
hot nude daves
how to build lego new alien conquest of the truck slowly
WHOA THERE, SPEEDY, LET'S JUST TAKE A BREATH FOR A MOMENT.
let's just keep this between you and me.and the rest of the frigging world! mock mock who is there mr. dont believe you.
I don't know what this is, what it found on my site, and I don't want to know.
seriously what is wrong with you
shake your cyber
shaped like a ball,has three legs,has several thousand points
we are not called the right wing because we are wrong
what should be dave's catch phrases be?
Well? What should they be?
Thank you all so much for reading my li'l ol' blog and linking to it and stuff. I do appreciate you all, even if I did turn off the comments and have no plans for turning them back on.