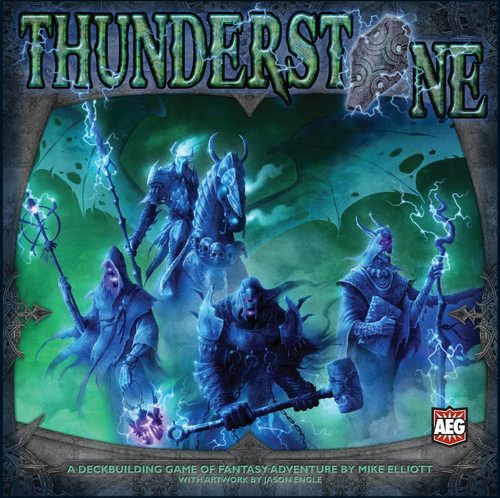 I first played Thunderstone back in 2010, and it made my notable games list for that year. Since then my enjoyment of the game has only increased. It's a particular favorite for my friend Matt and me, who have (I think) all of the expansions between us.
A quick introduction to the game: it's a deckbuilding game, which is a new-ish type of card game. The idea is that each player starts with an identical deck of twelve basic cards. Through the game you will add more cards through your deck either by purchase or conquest. You draw six cards a turn, so you'll shuffle and go through your deck over and over. The cards in your deck represent heroes, weapons, items, and spells that you'll use to defeat monsters in the dungeon. The monsters you defeat are also cards and also go into your deck, which is good, because they're victory points you need to win the game, but they often don't do much of anything else, so when you draw one, you're not drawing a card that might help you defeat more monsters.
The game which started the whole deckbuilding craze was Dominion, which I haven't really touched since I got Thunderstone. Dominion is probably the better game, theoretically. I haven't played with most of its expansions, but when I did play it was pretty polished and streamlined, but to a fault. I said in my initial review that it's very mechanical but not very substantive. I stand by that. Thunderstone is a clunkier, more rough-edged game. There's a lot of stuff added on that complicates things: weapons have weight, and your heroes have to be strong enough to use them; the dungeons are dark and you have to bring in light sources or suffer penalties; it's got a weird endgame thing where suddenly you might not want to kill anything because it might help your opponent; heroes can be leveled up, so there are XP tokens in addition to victory points. Dominion is pretty easy to explain to new players; Thunderstone isn't.
However, Thunderstone, for me, is just so much more fun than Dominion. Even if it doesn't make much sense (Why do I have a militia, a sword he can't carry, two lanterns, a fireball, and a dead monster this round? What is this hand representing?) I feel as though I'm actually doing something in the game, something other than just moving a bunch of cards around. It's fun and exciting to figure out a way to use what you have to take out a particularly nasty monster. As I say, Matt and I have bought a bunch of the expansions, and have no complaints about any of them yet.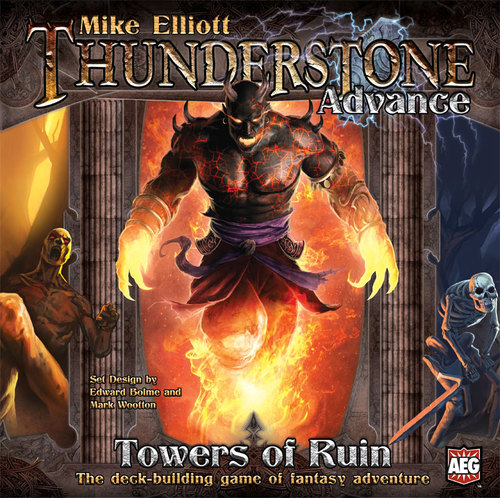 Which made us both concerned when Thunderstone Advance was announced. It's not an expansion to the game, it's a revision, a reboot. They're starting over with some changes. I've been in this situation before, but that time we were only talking about rendering a single game purchase obsolete. This time I'm looking at the game plus several expansions. I wanted to try Advance to see how much I liked the changes, but I was dreading buying it, not for fear that I wouldn't like the new system, but for fear that I would.
I ended up getting a copy for my birthday (thanks, J, J, and A!) and Matt and I eagerly gave it a spin on Saturday.
Many of the changes are no big deal and can easily be integrated into the original game. For example, there are now four ranks of monsters instead of three, there's a "Wilderness" setting in which light penalties are reduced, and the board that comes with the new game has slots for types of village cards to reduce the chance of getting weird card pools that are heavily tilted towards one type of resource. Most importantly, there is a new action you can take on your turn, "Preparing", which allows you to do nothing except discard some of your cards, in the hopes that you'll draw better replacements. So if you're only one strength away from killing a big monster, you can try to see if you can polish up your hand to defeat it on your next turn. This gives you some more control over your draws and adds, I think, to the whole, "I'm actually doing something here" feel to the game. These changes don't require anything out of the new box to put into place.
There are bigger changes, though. For one thing, Militia, which were often used in the sentence, "I'm just going to ditch a Militia" have been replaced by "Regulars", who, when armed with the long spear that replaces daggers, are actually pretty helpful. They're also cheaper to upgrade into heroes. Diseases are now replaced by Curses, which have built-in mechanisms for getting rid of them. There's a new card type, a Familiar, which gives you some small ability you can spend XP on during the game. Food is gone, as are the Thunderstones themselves! The endgame now makes slightly more sense, as instead of giving away the Thunderstone, you now have to defeat a "Thunderstone bearer" or he runs away to fight another day. Terminology has been improved somewhat, though we did have a question early on that the rulebook didn't really answer, caused by terminology. (I played Magic for years; I'm used to this.) The monsters also seem to have been tweaked. Maybe it was just the ones we were using, but it seemed that more of the corpses had an ability you could later use in battle, making them less dead weight in your hand. Also, XP and VP values seem to have risen (the former probably to help make the Familiars, which are powered by XP, more usable.) The result seems to be that you can get up and running faster, spending less time at the beginning of the game gathering resources and more time killing monsters.
The new game also has some nice touches to it. Randomizer cards look less like real cards now, and have text on them explaining what the monsters do, which is nice. The artwork and card design isn't so gloomy and dark anymore. The board, while not necessary, is kind of nice.
So what's the verdict on Advance? I'm not sure yet. In the case of New Era v. 51st State, the redesign was clearly superior to the original. In this case there are tradeoffs. AEG claim that the old game is compatible with the new version, but I'm not sure. I'll want to read more about that. What bugs me the most is that I can't say why I fear they're not so compatible, I just have a feeling about it. Maybe I'm completely wrong, and I hope so. It seems as though Advance is the way AEG is moving forward with the game (an expansion is already available) so if I want to keep having new Thunderstone, this is the way I'll have it. Still, as I say, it's not like we don't have plenty already. Matt and I could play with the cards we already have for some time. But I like the game and plan to keep following it for a while yet.