Traditionally, over on my daily Lego blog I don't post images of my own creations except for on my birthday. When that happened yesterday, I was kind of in a bind, because I haven't really done that much Legoing lately. However, my birthday loot is seeking to change all that.
I got 6862-2: Superman Vs Power Armor Lex as a gift, and that's one I've had my eye on. It satisfies the three things I like in a set: neat new pieces, pieces of a color I want (green), and cool minifigs: Superman and Wonder Woman. It bugs me that Superman has two faces: "grim" and "determined". Where's happy Superman? My Superman isn't dour. The mech design is great, though, and there are nice basic purple bits in the mix as well.
Then I headed out for Toys R Us and scored some stuff.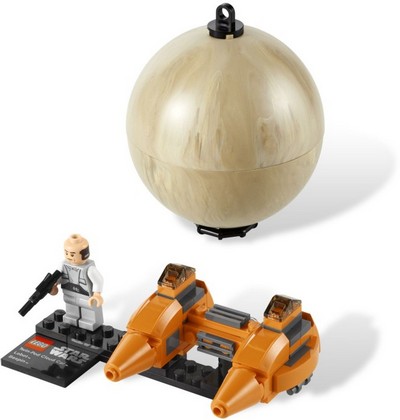 The second wave of those planet sets are out and although I think the idea is kind of dumb, I went and got the Bespin one for the minifig (li'l Lobot) and the orange pieces in the cloud car. (In the first wave I got Tattooine for pretty much the same reasons.)
After some hemming and hawing I also got 9497-1: Republic Striker-class Starfighter. I have no idea what this thing is or who the minifigures are, but it's a rare Star Wars set that doesn't look like a bunch of gray bricks melted in the back seat of a car. I like the colors and parts, so I got it. Thing is, it's kind of pricey for what you get. I really need to stay away from licensed stuff.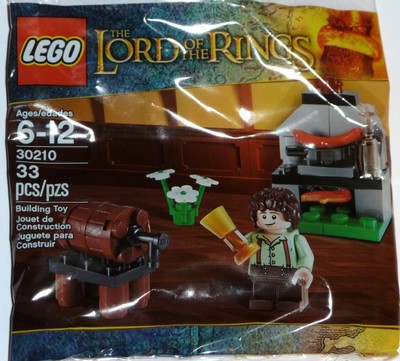 TRU had a deal where if you spent $20 you got a free Frodo set. It's that scene in Lord of the Rings where Frodo fries up a giant hot dog while drinking from a keg. In general the LOTR sets haven't done much for me, though I did get the Shelob one a while back as it was the best value for Frodo, Sam, Gollum, Sting (the sword, not the actor/musician), and some rings. Anyhow, this is a cute little bagged set with a hot dog in it, and it was free, so hey!
When I got to the checkout I noticed they had the Series 8 collectible minifigs, a thing I still have a love/hate relationship with. This surprised me, since they haven't already been out for like five months everywhere else. I grabbed a handful of them, and since they were right at the register I didn't feel like I really could feel them up to figure out what was in them. The handful turned out to be seven, and what I got was: cheerleader, Bavarian guy, Shakespeare (which I've already been told I need to get another one of for Becky), DJ, Batboy, pirate, and another cheerleader. Out of all of those the pirate was the only one I wasn't crazy about getting, and the diver is apparently pretty easy to feel out, so I didn't do too badly!
Has this all inspired me to hit the Legos again? Sort of, though my next project may not be a building project, it may be a sorting project. But that's another story for another time.