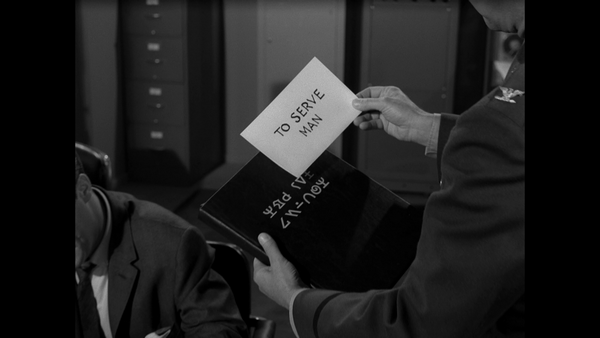 In my recent blog post about food, and my problems with it, I dropped a hint that I was embarking on a plan to help change that. This plan can now be revealed. For Becky's birthday, I gave her this:
Becky does know how to cook, but I don't, so I told her to pick some things out of there that she'd like and I would make them, including going to the store to buy ingredients. (My original plan had been to give her cooking lessons — for me — but the places I looked up would teach you how to make a specific meal, which wasn't particularly useful.) She picked out a main and a side and I went to work.
My first problem was at the store, where an "8oz can of sliced tomatoes" was something that just plain didn't exist, but diced tomatoes served in a pinch. I got home and began work, with Becky helping in an advisory capacity (and doing things I usually do, like grating cheese.)
The main dish was Slow-Cooked Garlic Chicken, which was super easy. Put the stuff in the crock pot, let it cook for 7 hours (I got it ready in the morning and it cooked during the day) and hey presto, chicken. The side was a cheesy rice dish. It had a little more going on, but was still not too much of a problem.
The verdict? Both dishes were pretty tasty, and I'd have no problem making either one of them again! (I didn't take pictures of them because even though this is partly to get me over my problem with food, I still don't want to look at photos of it.)
Sadly, I didn't pick the best starter cookbook, which is why there's no Amazon link there. I don't really recommend that one. Here are some of the problems:
1) Don't tell me the steps out of order. Don't say "Place onions in a greased 2-quart dish" if you haven't first told me that I need a 2-quart dish and it needs to be greased.
2) Don't be vague about ingredients. What do you mean by "chicken pieces"? I mean, I know you probably don't intend for me to just throw a bunch of wings and drumsticks in there, but what do you mean? I ended up buying boneless chicken breasts and Becky told me how best to cut them — the book left me hanging at chicken pieces.
3) Don't make other things carry the weight. I was looking at the wrong thing in the book to see what it had to say about making rice, and its advice was, "Follow the directions on the package". Well then what do I even have you for? I know not all rice types are the same but you should throw in generic white rice preparation into your beginner's cookbook. It's a staple food. (Plus, we buy big bags of rice — as most people I think do — and empty them into a container for storage. We usually don't have the package laying around with the directions on it.)
I know these complaints probably sound stupid to someone who knows what they're doing, but it was frustrating to me. If you're writing a cookbook for newbies, assume you're going to have to do a certain amount of hand-holding, no matter how obvious it might seem to you. I can always skip over stuff I don't need, but I can't summon up help that isn't there.
So I'd say this first round was a genuine success! And I will keep you all updated on future rounds.