A while back we went up to New Hampshire's White Mountains to check things out there, and what we saw was mostly rain. But we also saw little cottages you could rent. This weekend we rented one and headed back up there.
We rented a cabin from A Better Life and it was great. It had a queen sized bed, table, bathroom, and small kitchenette. It was about the size of a small hotel room. There are ones that are smaller, too. The whole point is, you're not going to be hanging out in it, just sleeping, so you don't need to get all fancy, just comfortable, and we were. It was located in Bartlett, which is actually a bit east of Franconia Notch itself, but that was no biggie.
We hiked, sometimes more successfully than other, frolicked in mountain streams, rode the bikes a bit, checked out some local breweries, and just did general sightseeing. Tried to see moose, but again, it was not to be.
I don't know if you're aware of this, but time is marching on and I'm not the avatar of peak physical perfection I used to be, so I was concerned about the idea of riding bikes in amongst mountains.
"Not to worry," said the park ranger, "for the path you've chosen is easy."
"Not to worry," said the woman next to us, "for my little ones did it on their bikes."
Probably about 500 feet in, after laying on the ground for a bit, I stated, "I can't do this" and turned around. I suppose if you're used to this sort of thing, or if your children are East German athletes, it's no big deal, but the steep rises in the trail that began pretty much immediately nearly did me in.
Later, we were hiking a path that just kept going sharply up and up and up. There was a promise of 80-foot waterfalls at the end, but every single new view of the path was yet another steep climb.
"Not to worry," said the man coming back the other way. "for the way is long but easy and the little ones did it."
We don't know if we got to the end of it, but we nearly got to our ends.
Here's the thing, folks. Quit telling me it's not a problem because your kids did it. , I am not a ten year old kid all hopped up on Lik-M-Aid or whatever. I'm a puffy-assed 43-year old out of shape nerd who hasn't taken the feat, "Compensate for Computer Job By Being All Into the Great Outdoors".
But the nice thing about the White Mountains is that there's tons of this stuff, and if you can't climb up to this one, there's one you can get to easier elsewhere.
The other nice thing about the long weekend is, the cabin didn't have wi-fi. It had a TV, but we never turned it on. We never listened to the radio or looked at newspapers. So we were "off the grid", and let me tell you, it was nice.
It's a gorgeous place, and the cabin was actually pretty reasonably priced. I am sure we'll be back.
MEANWHILE, AT HOME: Cappy stayed at the Puppy Hotel where he got to room with Dante, our friends' dog. The two had a grand time, apparently, and had a lot of fun destroying Cappy's bed.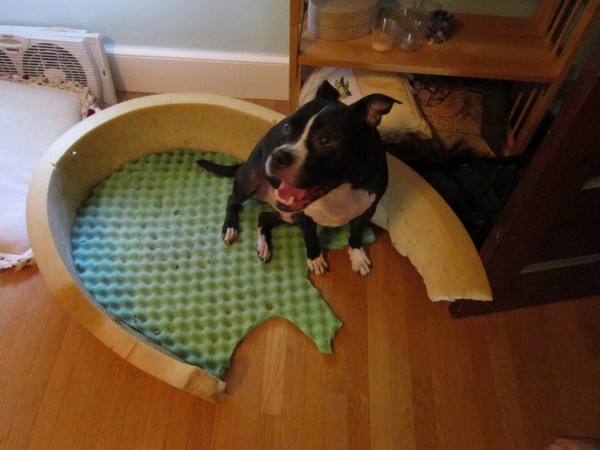 The woman at the kennel said she came in in the morning and found the bed had been torn up but Cappy was happily sleeping on the more-intact half.