"Worker placement" is a type of boardgame in which each player has a number workers or minions or interns or whatever which they take turns assigning to different tasks. I recently got my hands on three games of this type, which kind of alarmed me: generally, I don't need a bunch of different games that all play pretty similarly. This isn't even counting the other worker placement games I already had. One of the new ones is Lords of Waterdeep, which I already talked about and which has gotten a ton of plays. On Sunday I played the other two back to back.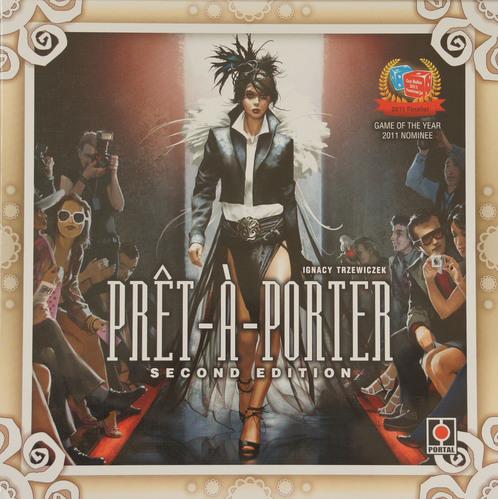 The first is Prêt-à-Porter which is about the fashion industry. Kudos to Portal games for rolling with that theme, given that most boardgamers have no problem with games in which you erect the tallest, strongest tower in order to impress the Master Builder but would think that a boardgame about fashion was too gay. It's a theme that's well suited to boardgames, and the game captures it pretty well.
The players are different labels, assembling collections for shows. The workers are dispatched to buy buildings, hire employees, get designs, and purchase fabric. The game is played over twelve turns, with each third turn being a fashion show. Completed designs in the same style can be shown as a collection, and are scored on trendiness, quality, buzz (PR), and number of items in the collection. The collections are then sold, and doing well in the runway show can significantly increase the money you get from the collection. Whoever has the most money after the fourth fashion show wins the game. The fashion world can be brutal, though, and expensive. Prêt-à-Porter is pretty brutal when it comes to economics, and if you fail to plan ahead and get off by even one dollar it can make your life miserable.
The game itself is pretty solid, but it has a major problem: it's originally from Poland (the designer is Ignacy Trzewiczek, who also designed 51st State/The New Era) and hasn't made the transition to English very well. The rulebook is a mess, with a lot of dodgy translation work. It was good enough to get us through the first game, but we had some pretty big questions afterwards. After the second game resulted in more questions, I joined other folks on BGG in asking the publisher for a FAQ or something that could help us figure some important things out. The game was shelved until the FAQ appeared, so on Sunday we took another crack at it and, even with a new player, things went much smoother. It helped that, after playing twice, we had a better grasp on the rules in general so we were more able to interpret cards, but the FAQ certainly did its share; there was one card which the FAQ revealed did something that wasn't anywhere in the rules. It comes with some player aids but their usefulness is questionable. Still, once you get over the learning hurdle, you're mostly good to go. The game looks a lot more mechanically complicated than it is.
More problematic is that the game seems to be very much a rich-get-richer affair. As in real life, having a ton of cash is great, and once you have it, it's tough to not get more. Whereas if you have a lousy fashion show and don't make a bundle off it, or you accidentally go into debt, it is very hard to recover. This may be realistic, but it's not particularly satisfying. However, this might be something that can be overcome with more play.
The Manhattan Project is the other new worker placement game, and thematically, it's a little different. In it, you're a nation researching atomic bombs. Very few points are awarded for trendiness, and all the supermodels in the world aren't going to help much.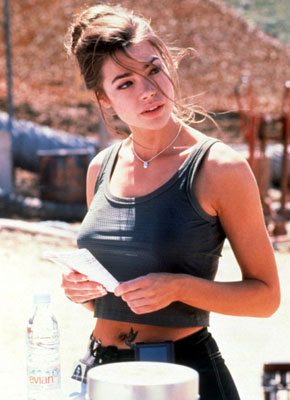 Except for my cousin, of course.
Manhattan Project is one of the better games produced via Kickstarter, and it brings some interesting new elements to the worker placement genre. First, in most games, everyone takes turn placing their workers until they all run out, at which point everyone takes them back and you start a new round. In this game, you can choose when to take your workers back (unless you run out, at which point you're forced to). That doesn't seem like a big deal, but it really can be. The other difference is more extreme: you can totally ruin your opponents' days. Since most worker-placement games are also Eurogame-style games, where direct competition is frowned upon, usually the only interaction comes from the placement itself: getting a worker on a spot before an opponent does to deny him whatever that spot delivers. In this one, though, there are two spaces you can use to mess with people. Espionage allows you to place your workers on other players' buildings, not only swiping that production from them but also denying them the use of their own spot. And air strikes allow you to just plain drop (non-atomic) bombs on opponents' buildings, rendering them unusable until they're repaired. Both options will likely get you cussed at.
What's interesting is how differently these two options have played out in our games. Espionage has certainly been used, often to devastating effect (in fact, although Manhattan Project claims to play 2-5, I think that playing with fewer than four isn't so hot, and one of the reasons is that Espionage becomes much more devastating. With 4-5 players the spying character has more options of buildings to steal, and therefore it doesn't happen that one player just gets hosed turn after turn.) Air strikes haven't come into play much. This is most likely because Espionage hurts others while helping you, while air strikes just hurt others and cost you resources (a worker, a placement, and bombers). Still, since repairing buildings is expensive, air strikes have the potential to be much more devastating in the long term.
I love the aesthetics of the game; it just plain looks nice. And I like how the theme is handled, even though it's kind of horrific. (The publisher, Minion Games, has announced that a company is interested in making a Japanese edition of the game, which I have to think would be one of the most awkward games to play.) As soon as I played it I wanted a copy, and I was willing to pay an RTFN tax on it rather than wait for a new printing.
Unfortunately, I don't get the sense that my fellow gamers like it as much. Between the two, Prêt-à-Porter seems to be more well-received (even though for me, it feels more "mechanical" and less fun). And if you add in Lords of Waterdeep, that one's probably going to see more play than the other two combined, but that's largely because it's a lot more straightforward and plays a lot faster. It also seats five, while Prêt-à-Porter only goes up to four. And then there are my existing worker placement games. Will Stone Age, my previous favorite in the genre, continue to get love? Belfort was already threatening it. Do I really need five different games of this type? (And if I like this genre so much, why do I hate Agricola, Caylus, and Pillars of the Earth, which are considered front-runners in it?) The next game purge is coming up, and I may have to make some tough choices.