In Previews world, we're a few months ahead of time, so there are solicitations for Halloween Mini Comics. I like giving these out, but I still have the ones I bought for last year, since we were out of town for Halloween (which got canceled around here anyway). So I don't think I need to buy any. This saves me some trouble, though, because I look through the offerings — Axe Cop, Adventure Time, Ghostbusters (Antarctic has a zombie one, of course) — and wonder which of these are for kids and which are for 30-year-old adults to give at kids.
Shaolin Cowboy returns in an apparently mostly-text format, because the reason people bought it before was for the gripping storyline and not the eye-pleasing Geof Darrow artwork.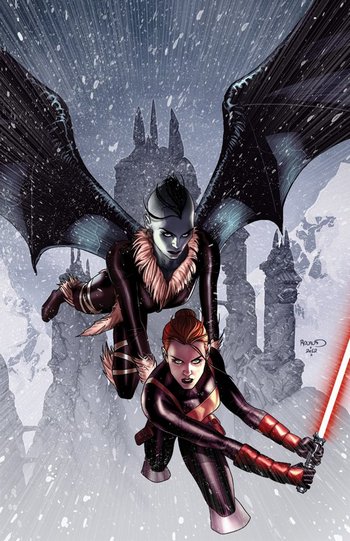 Beware the wrath of Darth Kneeblades!
There's a Lobster Johnson trade here and you can bet I'm getting it.
Really not sure on Kurosagi Corpse Delivery Service volume 13. I've enjoyed the series in the past, despite its penchant for mutilated, naked girls, but I think I've kind of seen what it has to offer. I don't know that I need to get any more volumes of it.

"Make sure you aim your Bladesteeds at her knees, ladies!"
DC follows up its incredibly successful reboot with an entire month of nothing but Issue Zeroes, focusing mainly on origins! This leads up to this fall's crossover event, "NEW READERS QUEST". It's the perfect jumping-on point, for the love of god, I have three children and a mortgage!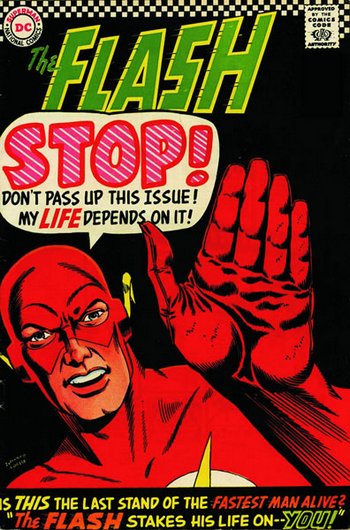 Bad news, Flash. I think I have enough volumes of your Showcases.
IDW has a second collection of Rocketeer Adventures. I liked the first one well enough, so depending on how the budget goes this month, I may pick up the second one.
Right on the heels of me digging Wally Wood is Woodwork, a gigantic collection of the man's art. Much as I'd love to thumb through this, I kind of prefer full stories, and the price tag, while appropriate given the amount of pages, is still kind of high. This might be an Amazon wish list thing.
Happy! is a miniseries from Grant Morrison and I have to say, based only on the solicitation and the two sample pages here, it looks awful. If I hear otherwise, I'll get the trade or digital version but boy, this isn't promising.
Youngblood #75 has a variant zombie cover because why shouldn't it?
Here's Mudman #8. I've been buying this series digitally and need to catch up!
On page 292, Devil's Due Publishing is back! With an Obama parody book that was already tired back when it first came out in 2009.
I'm sorry, Chris Ware, but while Building Stories might be exquisitely packaged and a wonder to behold, I just don't know that I need another tale of Midwestern Ennui.
Every single t-shirt on pages 386 and 387 is horrible. Every one. Here's the rundown:
Adventure Time, only it's zombies
Hit Girl, who is all over Previews this month for reasons I don't want to know.
Nick Fury shirt which actually there isn't anything wrong with
"KEEP CALM AND BAZINGA!"
Dungeons and Dragons weapons
Some person from Magic: the Gathering who is radiating fire, flying, and, of course, wearing steampunk goggles.
3 x 3 array of the same picture of Tom Baker's Doctor Who, tinted different colors
Dr. Horrible.
Same Dr. Horrible shirt, but for "juniors".
Lovingly painted image of He-Man riding BattleCat, sized for people who are old enough to vote.
Avengers shirt that also isn't too bad.
Da Vinci's "Vitruvian Man" only it's a Stormtrooper
Doctor Who "Vworp Vworp" shirt
Image of a Dalek with "RUN DLK" on it like RUN DMC and I don't know why.
"Was that Sarcasm?" and big Sheldon face from Big Bang Theory
"The Walking Dead" only it's Christopher Walken
"Lenore" shirt
Same "Lenore" shirt, but for "juniors"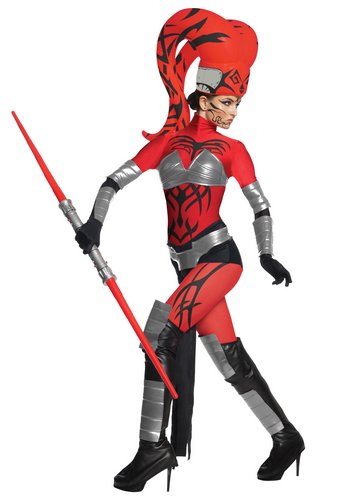 "The problem with Star Wars is that there aren't any Sith Lords I want to fuck."
There's a Lego spaceship from the Star Wars Clone Wars series (I assume) on page 416 and someone screwed up because it's not just a big hunk of gray bricks!

"The problem with Star Wars is that there aren't any X-Wing pilots I want to fuck."
In the Games section there's the Android: Netrunner card game, which I want bad, and which DCBS has for a price that's comparable to other online places. However, the last time I ordered an FFG game through DCBS it didn't arrive until several months after it had been available, so I think I'll instead go through a place that's interested in selling games, not just doing so because they happen to be in the catalog.
The Penny Arcade Munchkin set from Steve Jackson Games combines everyone's favorite stars from the hit webcomic, Kickstarter!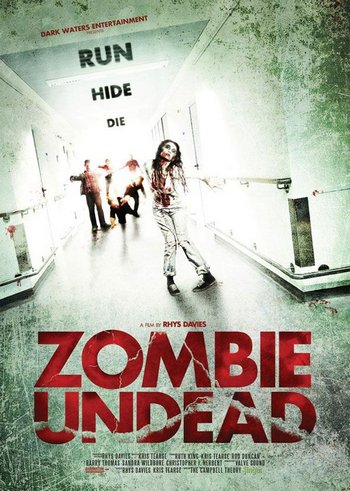 From the producers of Bloodsucking Vampires and The Swamp Creature That Lived in a Swamp and was Also a Creature, In a Swamp.