According to the IMDB, here is the mini-biography of actress Denise Richards:
Elder of 2 daughters born to Irv and Joni Richards. She grew up in the Chicago area, until the family relocated to Oceanside, CA when Denise was 15. She began working as a model, and moved to L.A. after she graduated from high school.
A pretty mundane story, no? But is it all a lie? Is there a conspiracy to rewrite details of her past and hide the dark truth — that she is related to me? Let me tell you of the whispers and rumors that surround the enigmatic Ms. Richards.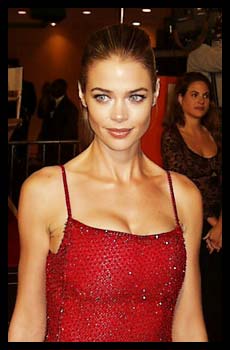 It all started with an innocent phone call a few years ago. My sister, Carol, called me with exciting news. "Hey, did you know that Denise Richards is our cousin?" I did not! "It's true!" Carol went on. "She's Shinny's daughter, and her last name is really Richard." (That would be pronounced REE-shard, which is a typical Cajun French last name.)
For the record, we really do have a cousin named Shinny. Well, I don't know if that's his real name or just a nickname. But he's a real person. He inhabits the part of my Mom's family that I don't know too much about. So this was all plausible to me. I didn't know much about Denise Richards, so I saw no reason to disbelieve this. It was pretty exciting. Turns out that I may have even hung out with her, when I was a wee tot, at another cousin's wedding.
This was all pretty cool, and I told many of my friends about this. They were suitably impressed. Especially since Denise Richards is in one of the greatest movies of all time, Starship Troopers. (That's the only movie of hers I've ever seen.) When she became a Bond girl in The World is Not Enough (or whatever Bond movie she was in), I was so proud that my cousin had made the big time.
And then it all came crashing down.
I visited my parents, who were now living in the town where my mom's family grew up. While there, I spoke to my Aunt Shirley and asked her about this Denise Richards thing. "Oh yeah," she said. "She went off to Hollywood, changed her name, got some plastic surgery done, and is trying to pass herself off as younger than she is."
"Really!" I said. "How old is she?" (Note, the IMDB states that she was born in 1971, making her 32 years old.)
"Well, let's see. She was born around when Mary was, so that would make her somewhere around 43, 44."
"Uhh… Have you folks SEEN Denise Richards? That's not a 44 year old woman."
"Oh yeah, she got all this plastic surgery done."
I was crushed. There was no way Richards was in her 40s. No way. Look at that photo up there. I went to the IMDB and got that information I posted above. It was a cruel hoax. Someone, somewhere, was lying. Maybe it was Shinny. Maybe it was his daughter, Denise (he really does have a daughter named Denise.) I don't know. I had to tell my friends the updated news. I was no longer related to Denise Richards. This, of course, didn't stop them from continuing to refer to her as my cousin. In fact, when I met Dave T. and told him my sad tale, he laughed and said that he and his wife were in a theater a while back and a trailer for something starring Denise Richards was shown. When she came on the screen, he heard someone in front of him whisper, "Look, it's Dave's cousin!"
That's where the story stood until this weekend, when my cousin Trey visited. (Trey really is my cousin.) I brought this up, and he told me that it really was true, Shinny's daughter Denise is Denise Richards. She's in her mid-to-late 40s. She was born in Galveston, not Illinois. Supposedly there is photographic evidence of this somewhere. Trey informed us that the reason she denies her true heritage is because of a possibly embarrassing detail about her father, Shinny, that was revealed late in his life. I won't repeat that detail here.
So the can of worms has been reopened. If you have any information that can support either side of the story, I urge you to email me and share it. All sources will remain confidential. Is the official story of Denise Richards' past history nothing but an intricate web of lies? Does hubby Charlie Sheen know the truth? Believe me, if she really is my cousin, I don't blame her. There's plenty of good reason to distance yourself from that family. If I wasn't thinking about removing some of the clutter from this site, I'd install a polling module and ask your opinions on this topic. Instead, I'll get my uncle, Wolf Blitzer, to do it.