I bought my first hard drive somewhere around 1989 or so. It was actually a hard card, a hard drive mounted onto its controller card so that the whole thing plugged directly into the motherboard. It had a whopping 10 MB of storage space on it, and there were two games it was bought to run better: Ultima VI and Starflight 2.
One day I was poking around at the files for Starflight 2 with a hex editor, possibly looking to cheat, when I came across the weirdest damn thing. Buried in the code was a message, something like "JIM GARRISON WAS RIGHT. JFK KILLED BY CIA/MAFIA." Nothing in the game, as far as I knew, displayed this message. It was just hidden in the program where only someone doing what I was doing would find it.
And apparently few others did what I did, because I never heard anything else about it. I mentioned it a few times on message boards where I hung out, but no one else had ever heard of this. As time went by I started to doubt even my own recollections of it.
Today, in a discussion on Twitter, it came up again, and it suddenly occurred to me: it wasn't like Starflight 2 had ceased to exist! I found an "abandonware" site that had it for download, grabbed a hex editor, and began the search.
(This actually isn't exactly how it went down. I remembered it as being Starflight, the first game, where the message was, and got sidetracked looking through it. My comrade, @bluemothra, got to Starflight 2 first and found it, then tipped me off.)
Sure enough, folks, you can now verify for yourself that I'm not crazy. Here's the actual message, hidden at byte 26248 in STAR2B.COM: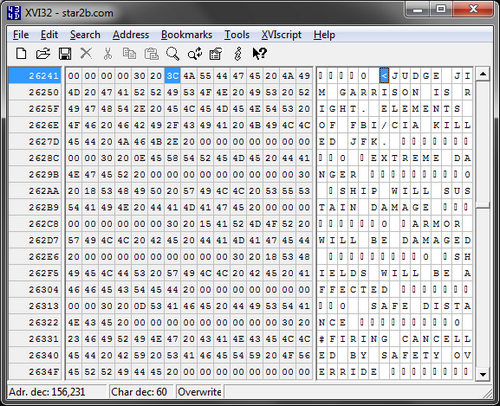 The actual message is, "JUDGE JIM GARRISON IS RIGHT. ELEMENTS OF FBI/CIA KILLED JFK."
Who put it there and why? No idea. But now I have peer-reviewed proof that it's there!