Wednesday
Wednesday morning we boarded the high-speed train to York. We got on at King's Cross station, home to this historical landmark: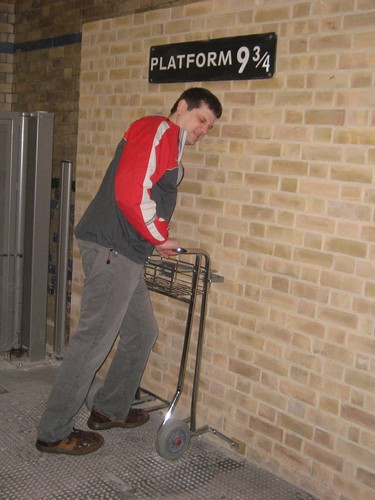 Muggle that I am, I couldn't get through.
York has a LOT of preserved history in it. A good portion of its city walls are still standing:
and it's got a big honkin' cathedral:
There are so many things to see that even though our guide marched us quickly from place to place and we didn't stay anywhere for very long, it was fourteen years until we were able to have lunch.
At that point we were free to explore on our own. Becky and I checked out the Shambles, looking for a specific place.
We didn't find it, but we did visit a restored medieval home which was hosting an exhibition of period costumes from movies, and had some hats one could try on.
We also saw some Roman ruins and a merchants' guildhall.
For some reason I was completely beat at this point and turned in early, skipping supper at the Slug and Lettuce.
Thursday
We started out at the ruins of St. Mary's Abbey.
Our visit to the Yorkshire History Museum was brief, as the medieval section is currently closed, but I had seen a lot of medieval stuff anyway. When we journeyed on to the York Castle Museum I went straight to the more modern history.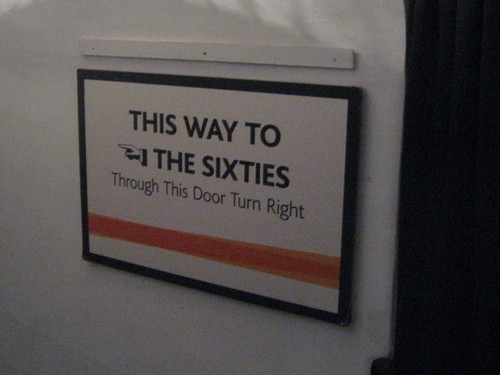 Afterwards Becky and I took a semi-private tour of Clifford's Tower, site of a horrific massacre of Jews (technically they massacred themselves, committing mass suicide here, but it was to escape a mob which no doubt had even worse plans for them.)
Speaking of Jews, we then went back to the Shambles and found the street we'd been looking for!
Becky had wondered what this place name meant. Turns out it's a sort of old-time portmanteau word fusing "Jew", "Brit", and "Gate" (meaning street).
This one, though, I can't help you with.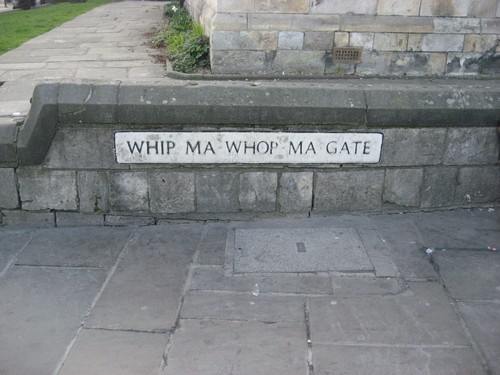 Friday
On Friday we returned to London. I spent most of the afternoon wandering around to see things I hadn't yet seen, such as Speaker's Corner in Hyde Park (it was completely unpopulated) and No. 10 Downing Street (it was packed, even though they keep you far enough away that there isn't a whole lot to see.) We then met up again for our final event, a tour of the restored Globe theater.
I asked one of the guides if there were plans to restore the bear-baiting pit next door. Apparently there are not.
We had a lovely dinner after that and then went back to the hotel to figure out how we were going to get all of our stuff home, as we were flying back to the States the next morning.
Saturday
We exited England, pursued by a bear.