Last week I was in England! As part of one of her classes, Becky took seven students there, and I tagged along. We had a great time, saw a lot of cool stuff, and the students were awesome. Everything went smoothly, nothing got lost or stolen, and there was no crazy drama. Just a lot of fun times.
Saturday
We arrived on Saturday morning and were met by Nadia, our guide for the day. She figured the best way to de-jetlag us was to just dive right in, so we went for a bit of a walk around London.
We naturally started out at Big Ben and Parliament.
(You can tell it's overcast…it was, after all, England in March.)
Next we toured Westminster Cathedral. I had been here before in 2002, and knew about "Poet's Corner", but didn't know there was also a Science Corner, with Newton, Darwin, Faraday, Maxwell, and other superstars buried or memorialized.
We tried to see the changing of the horse guards after that, but we were too late. When we went in ought-two we didn't even go near Buckingham Palace, but this time…
…we went near it. Not much further though. That's just something I can't get too excited about.
I was severely jet-lagged after that (I managed to cat-nap on the plane but not really sleep, which was probably worse for me than if I'd just stayed awake.) I tried to push through it with a trip to the Camden market, but it was no good, and I turned in early.
Sunday
We were all feeling more refreshed on Sunday, and ready for our day trip to Canterbury. The students were in a British Literature class, and had been reading the Canterbury Tales, so this was a no-brainer.
We passed on the animatronic Canterbury Tales attraction, which promised "the sights, sounds, and smells of Medieval England," and at least one of those should not be on anyone's short list of things to experience.
Instead we opted to visit the cathedral itself, site of the infamous martyrdom of St. Thomas Becket.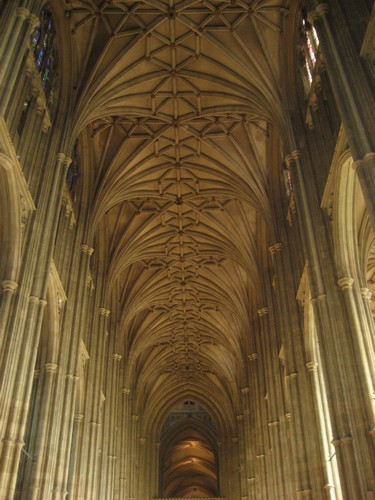 We also saw the incredibly photogenic ruins of St. Augustine's Abbey.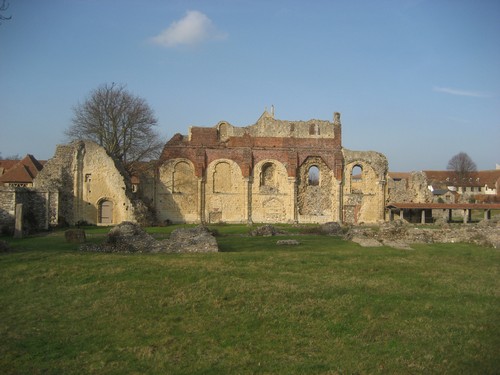 We had some wander time in Canterbury, and Becky and I found a bookstore with an autograph wall for the famous folks who had been there. Among the signatories were Tom Baker, J. K. Rowling, and: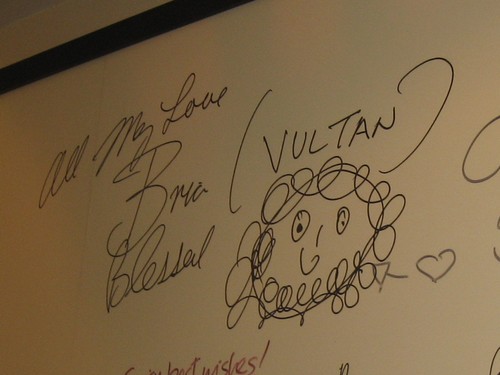 We also had some fish and chips!
Tomorrow: The BM and toys!