Other than I, Claudius, Project UFO and Doctor Who I haven't talked about TV much lately. It's true that we — and especially I — don't watch much TV. I occasionally catch 30 Rock, Community, Parks and Rec, and The Office, but I don't sit down for any of them regularly. Becky has done the Downton Abbey thing and is looking forward to Mad Men's new season.
There are some things we've been watching together, and fairly regularly (although via On Demand or bittorrent).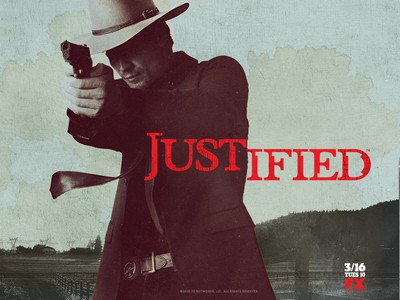 We enjoyed Deadwood a while back, and had heard good things about Justified, so we gave this one a try. Timothy Olyphant plays Deputy Marshall Raylan Givens, who does the work of the Marshall's service in rural Kentucky. Not only does he have to deal with a community prone to poverty, frustration, and crime, there's also the fact that this is where he grew up, and he has a history with a lot of these people. Nearly every role in here is a treat, and some of the performances are stunning. We're currently about halfway through season two, the show is currently on season three.
We've been regularly watching Project Runway even though it's been on something of a downhill slide for some time. In season 8 they finally got a genuine talent only to have him lose at the very end to a mediocre hack. Season 9 was so uninteresting that I have no recollection whatsoever about who won or even who was competing. We thought that Project Runway All Stars show would inject some new life into the series, as it gave a lot of near-miss designers another chance to compete. However, there are now only six (five? maybe it's five) designers left and there's still a lot of low-hanging fruit here (Kenley Collins is still around? Why?) It seems like the show just exists to give a big win to Mondo Guerra, who is miles away from the rest of the competition, which is fine, but not overly compelling television.
Ricky Gervais is one of the many Assholes Geeks Love, because he's an outspoken atheist. That's nice and all, but he's also a jerk, and a little of him goes a long way. Thankfully he's not the star of An Idiot Abroad, but Karl Pilkington is, and Karl Pilkington is a treasure. The concept behind the show is that Karl is a guy who doesn't much like travel or experiencing new things, who just wants to be in places he knows doing things he likes. Also, he says what's on his mind, which is often quite absurd and funny. So Ricky Gervais and Stephen Merchant send Karl around the world to places he doesn't want to go, to do things he doesn't want to do, and Karl moans about it the entire time. That would be miserable television except for the fact that Karl is not as advertised. Karl is actually incredibly game for whatever Merchant and Gervais throw at him (except bungee-jumping) and is always polite and courteous to the people he meets. They attempt to get him to do things he doesn't want to by calling him a coward, but the more effective way is to imply that the people he's meeting will be disappointed if he doesn't go along with it. Also, a lot of Karl's musings are genuinely insightful (and often hilarious). He's not nearly as stupid or unpleasant as Gervais would like you to think, and the result is a funny, interesting, and eye-opening show. It's currently in its second season.
Next up may be Sherlock. I thought the first episode of the first series of this showed a lot of promise, but found the second episode kind of dull and the third one kind of goofy. Still, we have the second series downloaded and will probably give it a go at some point. I know, you can tell we're completely addicted to this one.