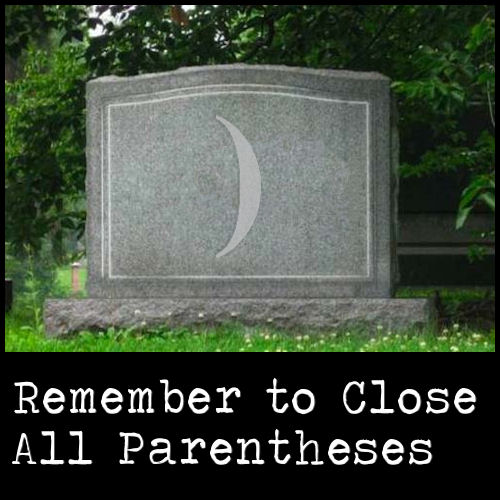 It's been almost three years, so how about another mix CD?
Number 31 in the Cool new Music Tape series is now here: Remember to Close All Parentheses. The title of course refers to @FakeAPStylebook, and the cover also throws in a reference to an e. e. cummings poem.
This one is different because it's only one disk. No "sides" one and two, just one stream of songs. Not only does this reflect the fact that I just plain don't listen to a whole lot of new music these days (though I'm trying to overcome that), I also felt that these things were kind of getting too loong and bloated. So it's back to basics for this one. Maybe this will help prompt me to do these more often than every three years?
Anyway, here's what's on this one. I realize that most of this will hardly count as "new" for a lot of folks but oh well.
1) Can't Keep Johnny Down – They Might Be Giants
2) Cradle – The Joy Formidable
3) Been Through – Cloud Nothings
4) Superfast Jellyfish (Feat. Gruff Rhys and De La Soul) – Gorillaz
5) Buy Nothing Day – The Go! Team
6) Acela – Fountains Of Wayne
7) The Ghost Inside – Broken Bells
8) Moth's Wings – Passion Pit
9) Corriander – Pomegranates
10) Daisy – Fang Island
11) 1901 – Phoenix
12) Worry About It Later – Brakes
13) Calamity Song – The Decemberists
14) Hallelujah The Hills – Hallelujah the Hills
15) Mars – The Billy Nayer Show
16) We're So Small – The Epoxies
17) He Gets Me High – Dum Dum Girls
18) Jupiter Mission – Beta Hector
19) I Have Never Watched An Episode of Dr. Who In My Life – Adam WarRock
20) Loving Up The Thing – Shriekback
21) A Cold Freezin' Night – The Books
22) Actor Out Of Work – St. Vincent
23) Permanent Scar – O+S
24) Sprawl II (Mountains Beyond Mountains) – Arcade Fire
Or, if you prefer, as listed on the back cover:
And you can listen to it here:

(xspf player courtesy Lacy Morrow and Fabricio Zuardi.)