We're back from Italy, and more about that soon, but let me share with you what we came back home to.
On Saturday a "nor'eastern" blew into town, a standard heavy rainstorm. Unfortunately, this coincided with an unusual drop in the temperature. What would have been an ugly late-October thunderstorm turned into an ugly late-October blizzard. About fourteen inches of heavy snow fell on Springfield.
Even that wouldn't have been that big of a deal, except that snow in October is unusual (you have to go back to pre-Civil War days to find the previous instance) and early, and most of the trees still had plenty of leaves on them. This gave them more of a surface to catch snow on, more than the trees (already weakened from the previous crazy weather we've had) than they could hold. As a result, there are limbs and trees down EVERYWHERE. Friends who were outside during it said you would just hear creaking and snapping every few seconds. Power lines are down and power is out throughout most of the city.
So we came back home to an empty cold house with no heat. Friends of ours with electricity offered us shelter for the night, but we wanted our own bed and didn't think it would be that big of a deal (the temperature has climbed to normal levels again). But boy, was it cold. We're taking them up on it tonight, since we still don't have power and aren't expecting it until Thursday at the earliest.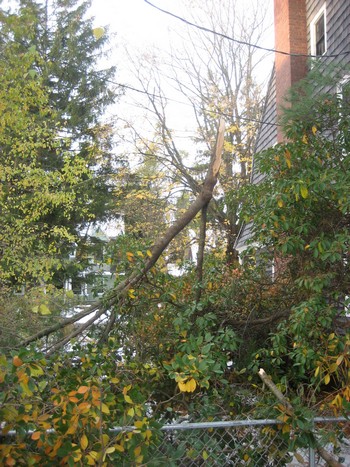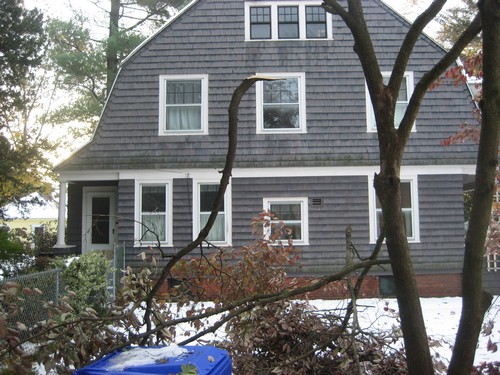 We actually got off pretty easy, mostly because our sketchiest trees came down or were taken down last year. The dogwoods on the side of the house are probably goners, but they were kind of sickly to begin with. The pine tree on the other side lost a big limb, but it didn't hit anything. And the tree out front lost some branches, but again, they don't seem to have done any damage. We have no power, but we have hot water and a stove, and friends with power. Also Becky's work, where I am now, has power and Internet, so I can return to work.
We had a great time in Italy, but we were glad to be back home, even in this condition.