This is looking like a mighty big month for me, comics-wise! Lots of good stuff in this month's Previews, and also the usual cack. Let's try to focus on the former.
The cover is showcasing Aquaman.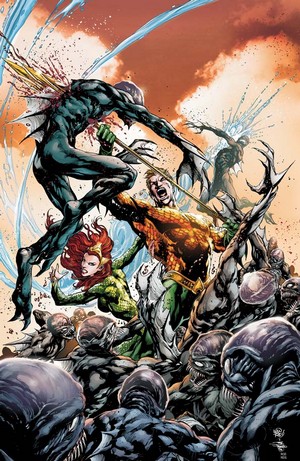 It's Geoff Johns, so naturally there's blood and disembowellment.
We're then treated to a number of photos of Craig Yoe, who — and I say this with both the utmost respect for his work AND knowledge of what stares back at me in the mirror every day — I would expect to have to pay money NOT to look at.
I just received the first BPRD: Hell on Earth trade yesterday so I don't really know what's up with it, but Hell on Earth Vol 2 is solicited here and I'll probably end up getting it.
Then there's Witchfinder Volume 2. The first volume was okay enough, and I'll most certainly get this as well, but it hasn't solidly grabbed me yet.
I enjoyed the first volume a lot, so I'll be getting The Mighty Skullboy Army vol 2.
Next we get to the Delicious Carnage section. Ain't nothing for me here.
I've always enjoyed Dave Stevens' Rocketeer comics, and this month IDW is offering a hardcover of Rocketeer stories by other creators. There are definitely some swell names here. That said, it's iffy, and will be off the list if I go over budget.
Image presents Mudman #1, and normally that wouldn't interest me at all, but it's by me-favorite creator Paul (Jack Staff) Grist! Herein lies the problem: I want to read this. I want to give Paul Grist money. But I'm not buying single issues anymore. Will this ever get collected in a trade? Will it be released digitally? I have no idea, and it would be nice to know.
Shaky Kane's Monster Truck is calling to me. I like his artwork, liked The Bulletproof Coffin, and it looks…well…interesting…
Time for the back half of Previews. Take a deep breath, Dave. You can do this.
Archie comics show a cover in which Kevin Keller is shown as the President of the United States, but I'm sure that could never really happen because I think the dude is an atheist.
Boom Studios has comics for all the Presidential candidates (except Kevin Keller) and it says here under Rick Santorum's, "Best known as former Senator of Pennsylvania…" Oh, that's not what Santorum is BEST known for…
On page 268 you're given the option to buy Bone for the 117th time, but there's also RASL vol 3. It's on my list but honestly, I haven't yet read volume 2. This may be a case where just forgetting about it is easier than catching up.
I was so-so on The Adventures of Adele Blanc-Sec volume 1, so volume 2 only gets ordered if I'm well below budget.
The nice thing about being a fan of Jason is that the dude is crazy prolific. Athos in America is a must-get.
I'm also a big fan of John Porcellino, and The Next Day sounds interesting, but I don't know.
And that's it. Sounds like I have some decisions to make.