You guys know that I'm a big fan of DC's Space Cabby, right? The thing is, that's a lonely thing to be a fan of. Only a handful of comics, no action figures, no t-shirts…hell, he's so unloved and obscure that Geoff Johns won't even have him suffer a gruesome death in an event comic. Other than the artwork I get, there's just not a whole lot of opportunities to show the world your Space Cabby devotion. You have to make your own fun. Or get someone to make it for you.
Ladies and gentlemen I present to you, in all its glory, the Space Cabby Scarf: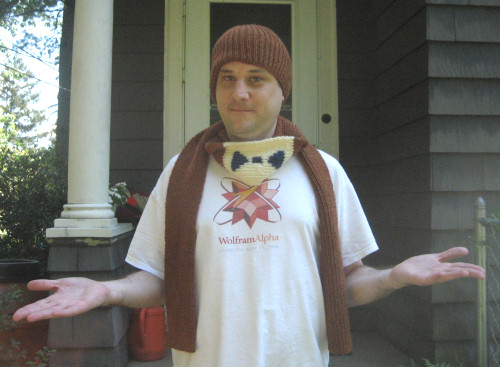 Handcrafted for me by the brilliant and talented Tangognat, the Space Cabby Scarf is a one-of-a-kind delight! As you can see, it is designed to wrap around the neck in such a way that it appears one is wearing a brown outfit and blue bow tie!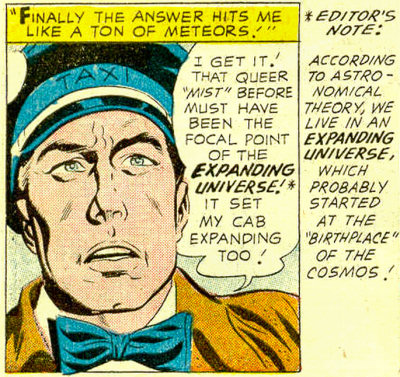 She also threw in a snazzy hat! I LOVE this scarf! It's exactly how I imagined it would be! Thank you so much, Tangognat!
Now, one might think that this is the geekiest scarf I own but that's not necessarily a given. After all, I'm a Doctor Who fan, and you know what that means…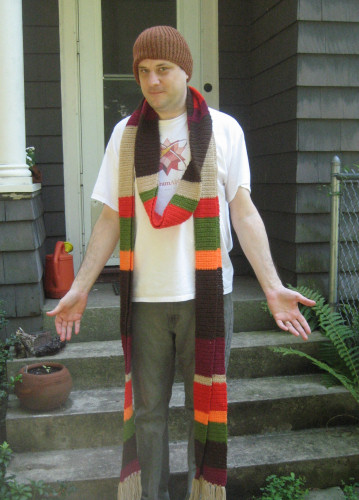 Yes, in THIS corner, measuring in at 17 feet, is the Tom Baker scarf my sister crocheted for me when I was a wee lad of…hmmm, not sure how old I was. Probably around 12 or so. Maybe a little older.
Anyway, this was a Christmas present she surprised me with one year and up until now it has been the clear champion in the geeky scarf arena. Has this changed?
Although the Space Cabby scarf is more obscure a reference, is that a point for or against it? And what about the fact that the Doctor Who scarf is absurdly long and impractical? It's not so easy to determine a clear winner here.
What do you folks think is the nerdiest neckwear of the two?