So I've been on the Google Plus for about two weeks now and I just don't think it's a thing for me. I've been trying to care about it and use it the way it's intended, but nevertheless it's just not filling any special void in my life.
The main feature of Google Plus is circles, which is just a fancy way of saying that you can add tags to your friends or put them in lists. So I have a "Lego" list where, if I'm talking about Legos, which I sometimes do, I can direct it strictly to those people. If I have someone on a "Boardgames" list and want to talk about personal stuff, I can just direct it to my "Special Friends" list and the Boardgames-only people won't see it.
This only works one way, though. If Buddy Frienderson sends me a picture of a cute hedgehog (Fig 1.) I have no way of knowing why. When someone adds you to their circles, it only tells you that they've done so, not which circle you're in.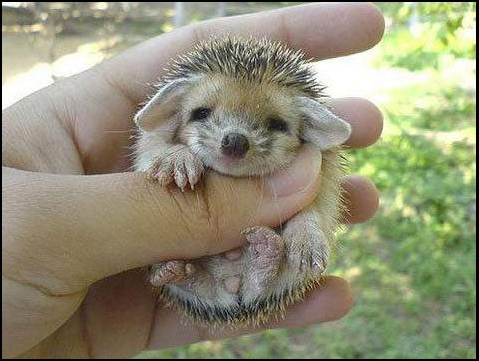 Fig. 1: Cute Hedgehog
I suppose this is great if you want to hand-craft loving missives to everyone and be sure that nobody is inconvenienced with something that may not be relevant to them. As is evidenced by this blog, I'm not one of those people. When I want to talk about Legos or Doctor Who or sexy furniture, I just open up my stupid mouth. If you don't want to hear about it you can ignore me or mute me or unfriend me or whatever; I don't really care.
So far the biggest advantage to the circles would be putting all the people you really want to follow regularly in one circle and making that your default newsfeed. Naturally, you can't do this yet, so by default you automatically get everyone in your circles, even the "I Guess I'll Add This Guy Just to Be Polite" circle. I think you can mute people but I'm not sure.
Another thing about it is that you can add anyone to your circles. They don't have to "accept" you. If Betty Lou Stalkerpants adds me to a circle, she'll see anything I post that is public (not directed to specific circles.) "Not to worry," says Google. "Just don't post anything public and then she won't see anything!" Why do I have to accommodate this?
There seems to be this assumption that, since everyone hates Facebook, migrating over to G+ is only a question of when, not if. It's true I'm not crazy about Facebook and don't trust it any further than I could kick it, but I'm not exactly looking for a different company to harvest information from me with which to better sell me to advertisers*. I already don't do a whole lot on Facebook for the simple reason that there isn't much on Facebook I'm interested in doing. There or elsewhere. Google Plus, by asking me to choose between them and Facebook, made me realize I really don't care about either of them.
What it comes down to is, out of all of these things, I still like Twitter the best. It's quick and simple. It's fun. It does the trick. It's fire-and-forget.
Maybe as more people get on G+ and some of the features get less clunky and more helpful (I suspect we will be able to set a circle as our default news feed before long; everyone seems to want that) I'll change my mind and use it more. So far, though, it's not much of a plus.
—
* – Yes, I — along with everyone else — am aware of that damn xkcd comic.