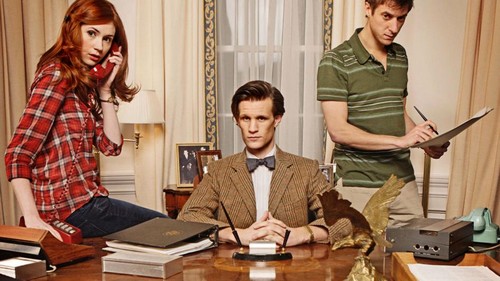 I was not really happy with Doctor Who last season, feeling that while Matt Smith was doing a good job as The Doctor, his companion and the stories didn't really do a whole lot for him. Still, I'm always game for another season, so I eagerly tuned in for the start of Season Six. I didn't want to talk much about the opening story since it was a two-parter and I thought it would be more fair to let it finish before discussing. Part two was this weekend, and I got opinions below.

I needn't have worried, since even Moffat didn't decide the story needed ending. Har!
"The Impossible Astronaut" had all the markings of a classic Moffatian double-act puzzle box: a host of seemingly unrelated threads, an incontinuity due to time travel, a creepy threat. (It also had a lot of things that, frankly, have become pretty standard Moffat: a little girl in danger, an enemy that does something terrible if you stop looking at it, the "perfect" prison, River Song.) It looked like another "Silence in the Library"/"Forest of the Dead", where the different threads would ultimately be woven together.
This time, however, the juggling act didn't go as well. Instead of a complete story, we've left bits unraveled, presumably to visit later on (not next week, at least. Next week there's pirates.) And this is troubling for a lot of reasons.
Here is a small list of things that The Doctor and his friends are going to "go off an have adventures" instead of looking into:
1) A little girl is still somewhere, probably in peril.
2) Amy may or may not be pregnant.
3) The Doctor is going to be murdered.
4) Oh, and the TARDIS blows up and destroys the entire universe. That's still left over from last season.
In the first episode of this season I was afraid, as I was last season, about being back in Buffy the Vampire Slayer territory, where we were going to just agonizingly stretch out stories because a season-long storyline is the true hallmark of Quality Television. I was also worried because I'm seeing a similar pattern in that, as the the show grabs a bigger and more mainstream audience, it's getting less good. Buffy swelled in popularity as some of its worst seasons aired, largely through cheap fan-service that made regular viewers feel especially loved. We're seeing that with Doctor Who as well: a throwaway fez joke at the end of last season, which the fans all thought was a hoot and a half, turned into three additional fez jokes within the first half hour of the new season.
What I didn't realize at the time was that it wasn't the Buffy model I had to worry about, as "Day of the Moon" would reveal that Moffat has another show in mind: The X-Files. Not just our "FBI" investigators (including the redhead) poking around a creepy place with their flashlights, but with the same lack of urgency that show had. With The X-Files, I eventually would groan audibly when William B. Davis or Nicholas Lea was given a guest star credit, because I knew we were in for another agonizing "mytharc" episode that would ignore some of the previous stuff, contradict other previous stuff, add in new stuff that would be ignored or contradicted later, and ultimately just tread yet more water until the next one. These episodes would just stop, and anything in them would be closed up and put on a shelf until the next one, no matter what was revealed in them. Not only that, even within the episodes there was a bizarre lack of interest in the characters in what was going on. The most absurd example of this I can (half-) remember is one where Mulder and some guy who knows some stuff drive in a car together for what has to be hours. When they get to the destination, the guy is killed, having not revealed whatever it was he knew. He and Mulder were in a car for hours and never said anything of any importance to each other.
"Dave," you're saying, "what is the big deal? You've watched plenty of shows that have drawn-out stories. Deadwood. Rome. Hell, Arrested Development. Does everything have to wrap up with a bow at the end of each hour?"
Honestly? Yeah, it does, if it's Doctor Who. Just as I don't need my superheroes to be dark and gritty and "mature" I also don't need my Doctor Who to be heavy, brooding, and ponderous. At its best it's a deft, fun show. Do people really miss 9-part stories from the sixties and seventies? Do kids really enjoy having the River Song saga teased out over three different seasons? Does anyone out there still think that the longer a storyline lasts, the better its resolution will be?
And furthermore, I just can't imagine The Doctor — in any incarnation — walking away from the little girl. Just flat-out saying, "Huh! No idea who that little girl calling for help was! Oh well, let's go have some fun!" How on Earth can this be explained as anything other than story-stretching time-wasting?
The thing is, I liked the story that was there! I thought it was creepy, gripping, and exciting. I loved the resolution of the problem with the aliens. I even liked Amy in it (and was pleased to see that she DOES bring something to the role of Companion that no one else had: a working uterus.) I didn't have many problems with it until the end, when the policy of complete lack of curiosity stopped being subtext and became the text. Now, I'd been prepared in the previous season for a Doctor who would (twice!) walk away from knowledge that an explosion of the TARDIS was going to have catastrophic results, but this time: walking away from a child in danger, with none of his friends mentioning anything about it — I was floored.
I've already seen two shows I enjoyed turn into Buffy the Vampire Slayer and The X-Files. I really don't want this show to do the same.