A lot of my friends have recently gotten iPads and iPad2s, and are now asking me what apps I recommend. Unfortunately I sold my iPad because too many people have them now and it now longer makes me cool and special.
No, not really!
So here's a tour of my iPad, featuring things I'm pretty pleased with having.
On the home page I keep the most useful stuff, and a lot of the stuff that came with it that I never use, like the Calendar and Contacts. The things here I really recommend are:
AppShopper – This is the app for the website AppShopper, and both are hell of recommended for finding new stuff.
Atomic Web Browser is tab-based browser I prefer to Safari. Unfortunately there's no way to "swap out" Safari with anything else completely, which is a shame because I think Safari is kind of assy.
Twitter, the official app, isn't as full-featured as some other Twitter apps, but it does the job and it's free, so it's the one I use.
IM+ is what I use for instant messaging. It's free and works really well.
Dropbox is essential to me, since it's a quick and easy way to transfer files to and from the laptop.
Alarm Clock Radio is what I use for an alarm clock when I'm traveling. It does the job nicely except when I forget to turn up the volume (I pretty much keep the volume on the iPad off all the time.)
Feeddler Pro is the pay version of Feeddler, which is what I use for an RSS reader. It's not the one people recommend to me, but it's the one I got and paid for first, so I stick with it. It's a wee bit crashy, but then again I'm often going through 600 entries at a time.
MyPad is not on there at the moment because I just moved it over, but it's a Facebook app for iPad (since Facebook itself hasn't bothered to come out with one yet.)
The Video folder has two important apps:
Netflix is pretty handy for watching stuff on Watch Instantly, I assume. I haven't actually done that. But I could.
The VLC Media Player is a great media playing app. Unfortunately, Apple yanked it from the App Store, so the only thing you can get now is their streaming video app. I have no idea how that one is, but I love the one you can't get anymore.
In the News folder I have BBC News, NPR, NYTimes, The Weather Channel, The Daily Show, PBS, and LIFE. Apart from The Weather Channel, I've barely used any of them.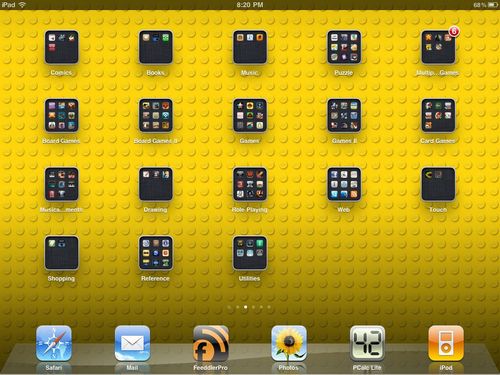 This page is where the magic happens! It's most of everything I use, all in tidy little folders.
Comics
The heavy hitters here are ComicZeal, which allows me to read all my perfectly legal CBZ and CBR files, and Comixology which allows you to buy comics (and get free samples!) and read them. I think the iPad is perfect for comics and love both of these. Comixology comes in all kinds of flavors for different comics companies, but I'm pretty sure they're all the same thing. I know mine has comics from all the different publishers.
Books
In addition to iBooks, there's the Kindle app and a PDF reader (GoodReader) in here. I have yet to even pretend to read a book on my iPad.
Music
I have KEXP, Pandora, and SoundHound all in here, but I never turn the sound on, so I don't ever really use them.
Musical Instruments
You can get all kinds of keyboards, drums, guitars, and other musical simulators, and I have a number of them that I never do anything with.
Drawing
There are a lot of art and photo apps out there, but the only one I've really used is PhotoPad to mess about with images. It does a lot, considering it's free.
Web
Honestly, web browsing is kind of where I feel the iPad is at its weakest. I have a WordPress app which supposedly would let me blog on it, but it doesn't work that great. I have yet to find a Tumblr app that is worth a damn. I keep wanting to get an SSH and FTP client, but haven't been much motivated to do so. Hence, the most useful thing in this folder is Instapaper, because it lets me save interesting websites I see on the iPad so I can go visit them later on with a real browser.
Reference
Wikipanion and IMDb are nice apps for those two sites. I think I got Lifelike Craig, a Craigslist app, for free during a promotion. And, of course, I have Wolfram Alpha, which I may have even played with once or twice.
Utilities
I haven't done much of anything with the stuff here except for Droptext, which is a text editor for Dropbox (that is, it edits files stored in Dropbox, which means they're instantly accessible on my laptop and the iPad.)
Okay, that's the mundane stuff. Let me know if there's something you think I am missing here.
Tomorrow: Games!