It's time to check out my questionable visitor stats here at Dave Ex Machina!
According to StatCounter, these were the unique visitors per month. It doesn't count the mundane ones.
January: 5699
February: 4115
March: 5349
April: 9747
May: 6164
June: 5335
July: 6466
August: 6514
September: 6297
October: 7915
November: 6323
December: 6555
There were 342 posts on this blog in 2010. Towards the end of the year I burned out a little and moved away from making sure there was a post every day, which has been a good idea.
Let's see what people liked each month!
In January, my 30-Second Recap of the Wednesday Comics Wonder Woman story was the most viewed.
For February, the day I got the most hits was a day I put up a music video. Surely this wasn't bringing people over, but I have no clue what was.
In March, the biggest hit was pointing people to something I wrote elsewhere.
My post in April about how incredible February 1966 was for comics got a lot of linkage.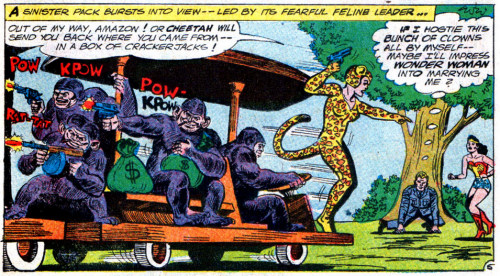 May's top entry was my attempt to open up a new avenue for paranormal romance novels.
As is so often the case, June's big hit was a throwaway entry I posted just to have something to post.
In another tradition, July's most popular post was the one where I wish Becky a happy birthday.
My review of Speed Racer sped to the top in August.
September was best known for the Claws of the Macra event!
This political image got some link-love in October.
A thing where I talked about not being interested in zombies got a lot of hits in November. I'm not sure why.
And December, which was a slow month, got the most mileage out of a wacky image.
I count 665 comments this year. Twitter and Facebook have reduced comments tremendously. Top non-me commenters were David Thiel (38), T. Derscheid (35), MichaelD (30), Mrs. Mancer (21), Andrew Weiss (20), John (19), Sniffnoy (18), Stewart (16), Blasterhappy (13), and Mattwran (13).
Some top commented posts:
A Decade of Liberal Outrage, Wasted
Dave Finally Watches: Speed Racer
And finally, here are the searches that brought some very unfortunate (in several senses) people here:
cade skywalker
clitoris
nonconformity
karen gillan
lego guns
51
sex animation
special daleks
nude babes
karen gillan images
popcorn
prayer
the jak
chargoggagoggmanchaoggagoggchaubunaguhgamaugg
intellect devourer
karen gillan naked
underwater railroad
three sided dice
female stormtroopers
cyst on penis
Thank you for your continued interest in my blog, and I hope I will keep earning it into 2010!