I am on record as having bought and enjoyed the Collectible Lego Minifigs.
At the bottom of that second linked post I mention wave three, supposedly out in January (the images no longer show up; I guess they'd been removed). Well January came early, because they're supposedly out now. They're popping up all over the place.
In fact, one guy found eleven cases of them at his local store, and promptly bought all of them. There are people who don't quite like this, and I have to admit, I'm one of them.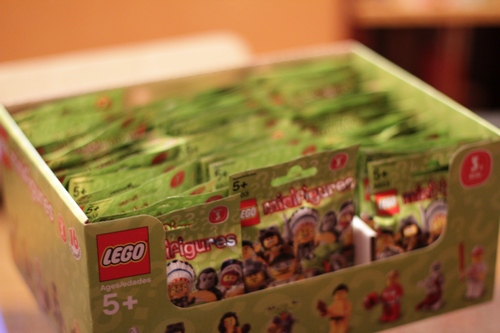 These things are already in short supply (though word is this wave will be much larger than the previous two). Unlike previous waves, there are no bar codes to secretly identify the contents (though it looks like there is still a way). Making a difficult situation even more difficult by buying out the store's entire supply to ensure you get what you want (and scalp the rest to pay for your "trouble") is, in a word, asshole.
Some folks don't see it that way. Hey, it's their money, they can spend it as they wish. What right do I have to tell someone how many cases of figures they can own?
I dunno. Call me a socialist, but I don't think that just because someone can afford to do something and it's not illegal, there's no ethical issue with it.
Quite frankly, I'm almost tempted to give this wave a pass. It's not that I'm not interested in the figures, it's just that this whole thing is starting to leave a bad taste in my mouth. I got out of Magic: the Gathering and Star Wars figures, so why would I want to get into a combination of the worst parts of both? At this point in my life, I am not looking for a hobby that involves me driving all over creation several days a week to see if anything new has come out. (Also, the fact that, in order to make the price point for these, they're manufactured in China makes me cringe a bit.)
It's just becoming something I'm not that keen on participating in or encouraging. I can't say that if I happen to see them for sale, I might not grab some, but I'm not going out of my way, and I'm not going to check the dots or whatever beforehand, and I'm not going to worry about having a complete set.
I'm 42 years old now and don't want to be concerned with "collecting" anything, which involves having it just for the sake of having it. If someone else needs 11 cases of them to make themselves happy, I won't stand in their way.