You may have noticed that I haven't yet done a Previews post this month. The reason for that is, it's been an…expensive…year. New driveway, new washing machine, new dishwasher, home repairs, and oh yes, the tree. With the tree dropping a huge expense into our lives, I've had to prioritize some of my nerdly spending (it's not that we're in bad shape or anything, we just don't want to GET into bad shape).
New board games won't be happening for a while, which is fine. I had been heading for spending more time with the games I already own anyway, so that's not an issue. Legos have never been much more than a sometimes food, so that's not much of a deal either. The gorilla in the room was comics, many of which featured gorillas in a room.
Switching to trades and graphic novels exclusively saved me some cash, but I was still spending a lot on books, and the "to-read" pile was growing faster than it was shrinking. So I'm taking a step back for a while.
Fortunately, the fact that I was strictly buying in books and not floppies means that most of what I'd be getting will still be around when I feel comfortable with buying regularly again. And it's not like I can't grab something when the mood strikes me. It's just that right now, having an extra monthly expense isn't where I want to be.
But that doesn't mean I still can't look longingly at things in Previews and make fun of stuff. So here goes. This time, green means "something I will probably eventually get, in the fullness of time."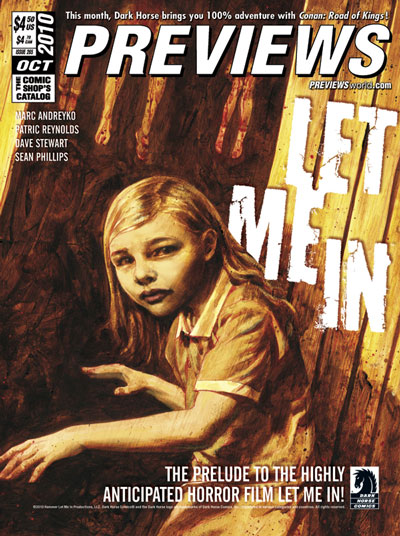 I assume this "prelude" will simply be a Swedish comic book.
On page 41, Dark Horse tells me "THE YEAR OF FETT CONTINUES!" I had no idea that Boba Fett was a figure in Chinese Astrology. After doing some research, I've discovered that next year is the year of Ben Quadrinaros!
I found out recently that 20th Century Boys goes to 25 volumes. I just bought volume 11, and the last one I read was, I think, 9. And I'm not even halfway into this story yet? I like it, but goddamn. There's no way I'm down for that. That's one I'm going to jettison, which is a shame because I like it, but I sure don't like it THAT much.
Contrast with Kurosagi Corpse Delivery Service, volume 12 of which is in this catalog. I'll keep going with that simply because each volume is more or less self-contained, so if I go a couple months without reading it, it's not like I'm totally lost when I pick it back up again.
I think DC herd you liek Batman.
The reprints of old Doctor Who Magazine comics continue, with Doctor Who Classics, vol 6, featuring Colin Baker, everyone's favorite Doctor!
I have to assume that someone out there buys and enjoys Bomb Queen. If this is you, and you're someone I like, I don't want to know about it.

You'll never believe what Francis and Kim get up to THIS month!
I've heard very good things about The Sixth Gun, and I may (eventually) check out the first trade.
I would theoretically be as down for Judge Dredd: The Complete Case Files Vol 2 as I was for volume one.
There you go. Ironically, it would have been a fairly light month for me.