I'm not sure how best to begin this, so I'll start at the beginning. Back in first grade, my best friend was a guy by the name of L. We'll leave it at L. L and I shared a love of computers (as we imagined them, this being before the personal computer era), science fiction (as depicted by re-runs of Star Trek and Voyage to the Bottom of the Sea on the black-and-white TV in my parents' bedroom, this being before the Star Wars era), and bizarre humor (by first-graders' standards, though some of our ideas still hold up as pretty bizarre).
I went to a different school after third grade and we lost touch for many years. Naturally the Facebook era has changed that, and I was happy to reconnect with L a while back to discover that we still had a lot in common. One thing had changed, though. When I knew him he, like myself, was just a skinny nerdy kid. I grew up into a puffy nerdy guy, while he grew up into a mad scientist hell-bent on destroying (or ruling, depending on his mood) the world.
Specifically, he became Dr. Milo T. Pinkerton III of the infamous Consortium of Genius, a nefarious organization which executes dastardly plots in the guise of a rock band. L, taking on the aspect of Dr. Pinkerton, sent me a preview copy of their upcoming release, Music for Supervillains and, after safely isolating my computer from the Internet and pregnant women, I gave it a listen. I wasn't sure what to expect.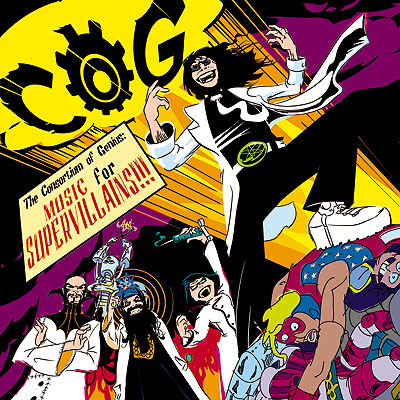 Music for Supervillains is a concept album, with a plot and everything. The story concerns Dr. Pinkerton's development of a zombification formula and its hijacking by his beautiful but deadly sister, Dr. Formelda Hyde. With a zombie apocalypse threatening, will Dr. Pinkerton triumph…at evil…and prevent…uh…more evil…and…you know, let's talk about the music.
The music is a lot of fun. The songs jump between genres, featuring power pop, heavy metal, 80's pop, surf rock, and more, including a really lovely torch song by Dr. Hyde (as in, "I want to set you on fire with a torch"). It's all extremely well executed, and catchy as hell (the one-two punch of "Science Fight" and "Lab Girl" is pretty irresistible).
Now, I will say that some parts get into some familiar geek territory that I for one am a bit tired of. I could happily never hear the word "zombie" again. But that's my own deal and lord knows there are plenty of folks out there who will love that. And despite that, I still had a good time listening!
COG will be unleashing Music for Supervillains on November 6, with a release party at the Blue Nile in New Orleans. Details on how to get a copy of your own will then be forthcoming at their website and Facebook page.
Congrats to my old friend L for both making his life what looks like a great time and for putting a smile on this jaded old nerd's face.