In our last episode I was waiting on a few Bricklink orders to replace proxy pieces. Those orders arrived and I did some swapping. Here are the first two floors now:

Here's a closeup.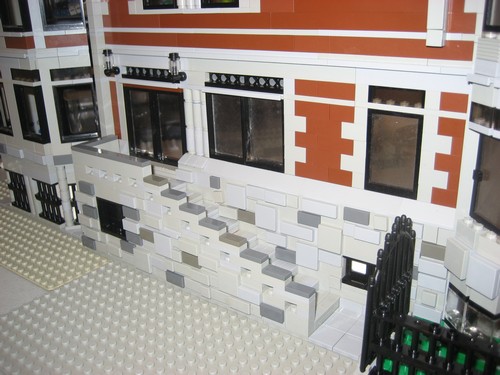 I don't know if you can make it out, but while I got plenty of windows in my order I sort of forgot to get panes.
I've also started work on the second floor. As you can see, I'm immediately back to proxies.
I'm not crazy about the results. There's a scale problem and I can't work out a solution I like. Going back to the reference, there should be a row of brown above those windows. but if I add that, everything gets thrown off. I could try shrinking the two full rows of brown (above and below the gray stripe) to two plates high and adding a two-plate row of brown above the window, but this will futz with the relationship to the turret windows. Anything I do is going to be a compromise, so I just have to work with it until I find a solution that looks least bad.
The next thing that's causing me grief is the scale of this thing. I simply don't think I can do a back wall for it. I had envisioned this as a full building — four sides and a roof — but I didn't realize just how big it was going to be. There's another level on top of this one and a roof yet to do.
This, coupled with my continued ignorance about the shape of that one side, makes me think I'm just building a three-quarter view.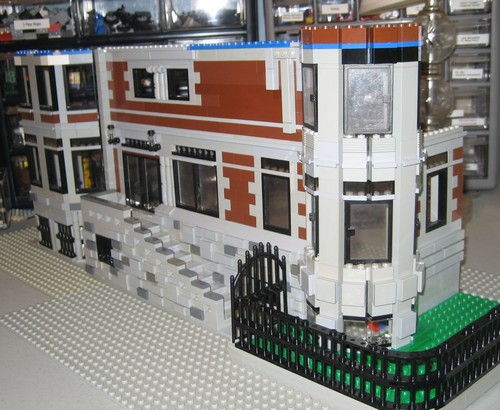 I'm going to be honest, I find this a little disappointing, and it's kind of put me off the whole exercise. I fully admit I probably bit off more than I could chew here, and scaling it all back is reasonable, but it still bums me out.
Even more, even if I commit to a reduced project, I already need another Bricklink order, and just how much money do I want to spend on this? Granted, most of the stuff I'm getting is pieces I will be able to use in other things, but there's got to be a limit.
We'll see if there's an update next Tuesday.