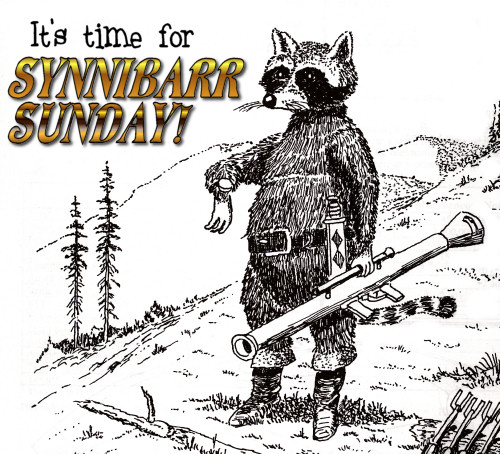 Once your Synnibarr character gets to be around 45th level, he or she will want to start thinking about becoming an Immortal (page 96).
To become an Immortal, you have to get a God to grant you an Immortal Quest, which is wicked difficult. If the hero completes it, he will be taken to Titan (on the planet Taine), where the Gods live, and face the Fires of Shadarkeem (also his sponsor needs to give him one God point). One he does so, the character is 51st level and an Immortal, which means they get all kinds of bonuses, including +2 to every ability except Strength and +100 to Strength.
When you get tired of being Immortal, you can shoot for Demigodhood. The process is pretty similar, except more God points are needed from the assisting deity. The benefits are also pretty similar, including another +2/+100 on ability scores. Demigods are level 71.
Naturally, being a Demigod is like being an Assistant Manager at Arby's — why bother unless you're shooting for the top position? Becoming a full-fledged God requires 100 God Points from another God, and afterwards you'll be 110th level.
Once you're a God you get God points of your own! The number you get per day is based on the number of worshippers you have. Find some hobo to light incense to you and you get negligible God points, but once you get a million followers you get ten GPs a day! (Note that "each worshipper must faithfully meditate and pray for at least 15 minutes a day" so I guess you'll want to keep track.) For some reason, one of the entries on the God Points table shows that with 272,250,000 worshippers you'll get 165.0 GPs/day, which is the maximum available to a first-level God.
Once you get a nice stash of God Points, you can think about creating your own divine plane!
If you're thinking of taking a shortcut to Godhood, be warned! If you wish to be an Immortal or God, "your character will blow up."
---
Unless specified otherwise, all references are to
The World of Synnibarr
, second edition, by Raven c.s. McCracken and Bryce Thelin, copyright 1993 and published by Wonderworld Press.
This post is not intended to foster any belief in the occult.