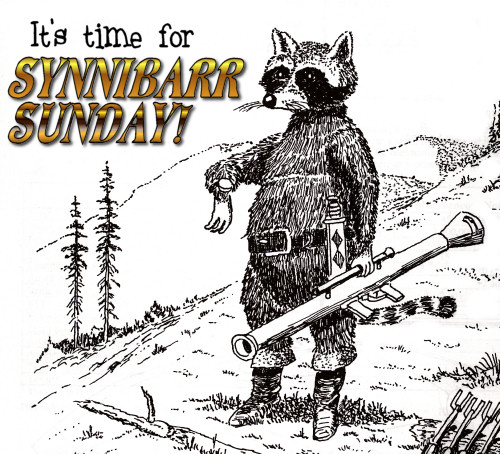 Oh sure, we all know about the Giant Mutant Fire Clam, but here's a challenge for you.
All of these are genuine Synnibarrian critters except one. Which one is the odd one out made up one one not found in the sourcebook?
Armapine – part armadillo, part porcupine
Psychic Baboon – if they bite you, you'll die in a week!
Batmen – humans with large batlike wings, they are well-traveled because they're good at sailing!
Electric Eagles – "they never forget a face"
Giant Flying Grizzly – they have EYE BEAMS
Giant Eight-Headed Black Mamba – emits a field that stops teleports within a mile radius.
Heal Spring Melon – can heal most diseases but not mad hound rabies, slarvor infection, or radiation sickness
Neptune's Electric Girdle – only attacks when surprised
Snow Scorpion – can tesseract six times a day because why not
Vitriol Weird – "whoever created this creature should have been stopped"
Do you give up? Highlight the text below for the answer.
Whoever heard of a Giant Black Mamba with more than six heads?
---
Unless specified otherwise, all references are to
The World of Synnibarr
, second edition, by Raven c.s. McCracken and Bryce Thelin, copyright 1993 and published by Wonderworld Press.
This post is not intended to foster any belief in the occult.