1) "Con" stands for "Conference", not "Convention". This means that it was actually panels of people discussing Internet tomfoolery and not people dressed like Stormtroopers wishing someone would take their picture.
2) The absolute highlight for me was meeting several Bureau Chiefs — and longtime online friends — in prison person for the first time.
From L to R, that's Josh Krach, Dr. Andy Kunka, Mark Hale, Andrew Weiss, me, and Ken Lowery.
I also saw Jim McGrath, Mark's entourage of Michelle and Cheyenne, and our agent, Kate McKean. I AM SORRY I MISSED YOU CATHY!
3) I met several other personalities as well! Mahir ("I KISS YOU!") was staying in our hotel! He had quite an entourage.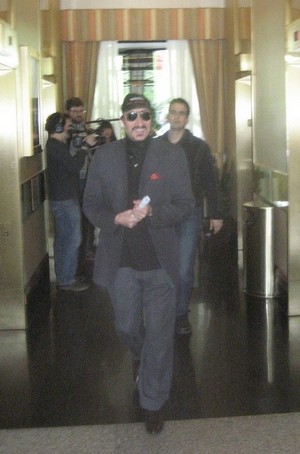 I also met David (Wondermark) Malki, Kris (chainsawsuit) Straub, and Ryan (Dinosaur Comics) North. What I can say about the latter is this: Ryan North is possibly the nicest human being on Earth. Oh, the other guys were hella nice too.
4) We left the con for a while on Saturday to go check out Free Comic Book Day at Comicopia, where Agreeable Comics' Kevin Church and Ming Doyle were signing and drawing!
5) Our panel went pretty good! We were paired with the guys from Autotune the News, who were very funny and nice, and we got a lot of fun questions and applause. We have fans!
6) I bought two t-shirts at the Conference: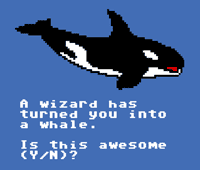 7) I also bought this book at the Conference:
If you are not familiar with Problem Sleuth, it is a comic/game/entirely new experience in which the readers give Infocom-style commands to the people in the comics, with unpredictable and hilarious results. Seriously, this is a freaking hilarious book and it has my strongest recommendation. It is apparently A Thing with which I was previously unaware, but am so glad my life has changed in that respect. (Note: AdBlock blocked the images for me which ruined the whole thing, so turn that off.)
8) MIT, where the Conference was held, is one crazy-ass place. For one thing, the people there are so smart they have evolved beyond the need to pee, as it was so hard to find bathrooms anywhere. In fact, I was in a building with no bathrooms but plenty of stuff like this:
At some point someone said, "Nah, we don't need any urinals. But we're out of LASER signs, so order some more."
There was also a Lego Lab at MIT that got me Quite Excited.
9) Speaking of which, I alarmed a box.
10) And here's what Becky was doing while I was away!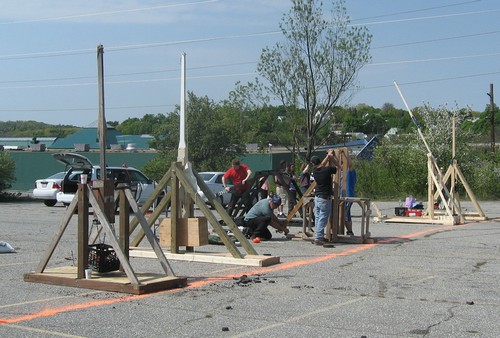 Seriously, it was great seeing and meeting everyone! I had an awesome time!