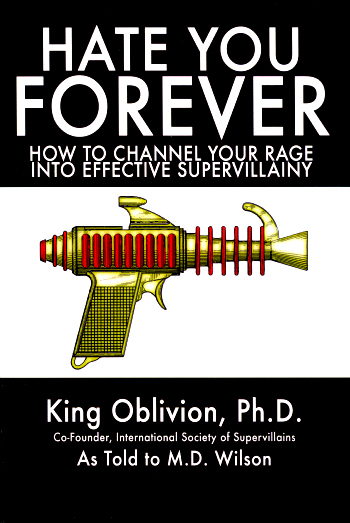 There are two things you need to know. First, Matt Wilson is a pal of mine, being one of my fellow Bureau Chiefs. Second, a copy of Hate You Forever: How to Channel Your Rage Into Effective Supervillainy was provided gratis for review purposes…and then quickly snatched away and replaced with a highly poisonous snake-leopard, at which point Wilson "gave" me the antidote in exchange for me buying a copy of the book. So although me and Matt are pals, I bought this book with my own cash.
Now, I'm going to be honest. Among the many, many things I'm tired of on the interwebs (including, but not limited to, the word "interwebs") is the "Oh look at me, I'm so eeeeeevil" thing. So it would seem that the idea of a book written by and for supervillains (or people who just want to look like them) would be something I'd be wary of, and frankly, you wouldn't be wrong. However, knowing Matt's sense of humor (as seen on the International Society of Supervillains website), I was prepared to put aside any prejudices I had (in much the same way that Simon Pegg got me to watch a zombie movie that almost no other person could).
I'm not disappointed. HYF is laugh-out-loud funny, whether you're a nerd who wishes it had more bacon jokes or simply a person who has harbored sinister thoughts about mankind after being stuck in traffic. Although Matt Wilson is partly responsible here, he is simply the secretary, herald, and gofer for King Oblivion, Ph.D. who dictated it to him. (You probably remember K-Ob from that incident a few years back when the moon ceased to exist for a few hours.) The book is simply a how-to guide for ceasing to be one of the brainless cattle and instead flexing your villainous muscles to, naturally, take over the world. He gives you all the tips you'll need, in candid detail (which is fine, since henchmen usually can't read anyway.)
There are some bits in the book that feel as though they've been shoehorned in from elsewhere (they're still funny, they just don't fit in as solidly as the rest), but on the whole it's a fun time (that's even funner if you have a working knowledge of comic books.)
You can purchase a copy of Hate You Forever: How to Channel Your Rage Into Effective Supervillainy in downloadable format ($10) or in extra-evil tree-killing print format ($12.95), if you want a head start. If you're not yet entirely convinced, there is a sample chapter you can check out.