Bert Brandon is on Venus! There's a motion picture studio there — Venus Pictures — that had their next movie production insured for two million credits. And wouldn't you know it, the scoundrels are trying to collect! Bert's there to put an end to this nonsense.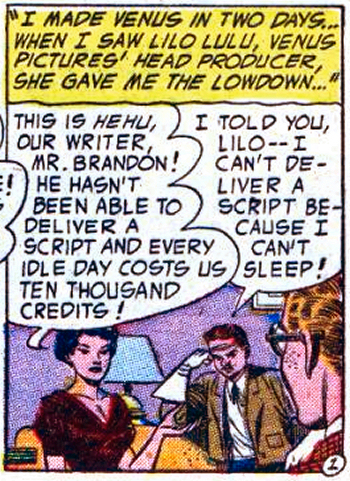 So VeePee is in a bind because apparently they've hired actors, camera workers, carpenters, catering, and so forth but don't have an actual script yet, because the only writer on the planet can't sleep. You see, some Venusians can only use their imagination when they sleep. If Hehu can't sleep, he can't come up with a movie idea. So all Bert has to do is send the guy to dreamtown.
He starts off with the obvious, shutting the writer up in a comfy bedroom and enforcing silence in the hallway, but it's no good. It's too quiet! So Bert goes to the next logical step.
He has an unused studio set up with a catwalk and a nice slumber chair. Hehu climbs in and then…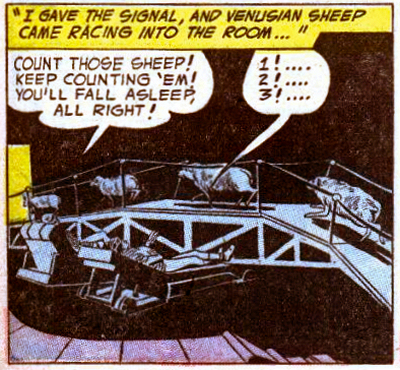 No good. Hehu is still wide awake.
Bert's next plan is to take Hehu out to the asteroid belt. Setting down on one of the rocks, he hands the writer a pickaxe and tells him to start digging! After all, "maybe there are diamonds in this soil!" For some reason Hehu agrees to this and starts chopping away at the dirt, but to no effect. Fifteen hours later he's not tired and he's got no diamonds. But he does find a monster!
Two monsters, actually — the one chasing him and Bert, who makes him run in circles away from it. Eventually he lets Hehu back on the ship and takes off, but the Venusian still can't get to sleep. Physical exertion doesn't tire him, he says, which would this have been something helpful to know before. And, after a fruitless attempt at hypnosis with a mirrored ball, he finally decides to reveal some more critical information.
After a quick trip to the library…
…Bert has just the stumper that will cradle Hehu in the Sandman's arms. Are you ready? It's a tricky one!
Okay, let's say a force is moving through space, and nothing can stop it. It is, for all intents and purposes, an irresistible force, got it? And then there's this object that just plain can't be budged. You might call it immovable. Now, here's the sticky part. What hap– oh, you've heard this before?
Well, Hehu hasn't, and he comes up with an answer straight away, something about the motion translating to vertical motion. But then he thinks again…maybe the one object would pass through the other! Or maybe…
Hehu snoozes for hours and when he wakes up he can't wait to get to a typewriter. He came up with a hum-dinger of a story while in Slumberland, and Bert rushes it over to the studio.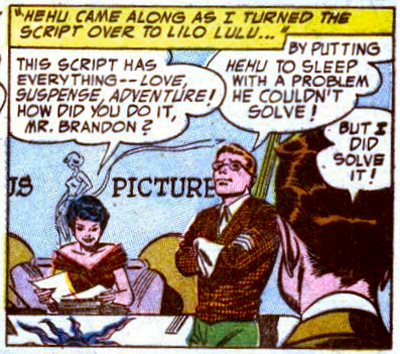 Hehu's solution to the problem is that the energy from the irresistible force is completely transferred to the immovable object, causing them to switch roles! And there's no Silver Age science that can prove him wrong!
Next week: Rocket-Race Jockey!
"Interplanetary Insomnia, Inc.!"
Mystery in Space #20 (June-July 1954)
Writer: Sid Gerson
Penciler: Carmine Infantino
Inker: Sy Barry
Editor: Julius Schwartz