You know, every month I go through Previews — look forward to doing so, in fact! — and I find some stuff I like and a lot more stuff to make fun of and we have some laughs and maybe learn a little something. This month, though, I don't know what happened, but somewhere around the Toys/Statues/Models section I just got absolutely disgusted with the whole thing and wanted no part of it. Even the things I liked I no longer wanted because they were all part of this same loathsome heap.
It wasn't caused by any one thing in particular, and there wasn't even a point of "that's it, that's the last straw". It was as if I just suddenly got overwhelmed by not only the crap that was in this particular issue, but the combined force of all the previous crap as well.
I think I'm okay now, and ready to give people money for junk again, but we'll see if this second trip through provides the same experience.
It wouldn't be a new Previews without Dark Horse having a Hellboyverse trade, and this time it actually features Hellboy! So I am definitely down for Hellboy: The Crooked Man (p. 44).
Skipping past DC's "Blackest Night 2: Blackester Night" event, there's DC's Greatest Imaginary Stories Vol 2. (p. 88) Silver Age goofiness? Oh, yes.
To preserve the experience, Neil Young's Greendale (p. 110) comes with a guy to read it to you in an irritating warbly falsetto.
I forgot to mention before that there's another Demo (p. 113) series coming out, this time from Vertigo. Remember Demo? Remember how it shot down the mountain into a field of jagged thorns and poison oak? Vertigo's pushing it back up the mountain for another ride!
I already own Stuck Rubber Baby (p. 119) and it is a classic of the medium. Well worth your money.
On page 149, Image United is called "The Crossover Event of the Century" which is good news for people who hate crossovers, as it indicates that they're not going to be making any more after this.
I won't be getting it, but King City #9 (p. 165) includes a playable board game! That's kind of neat.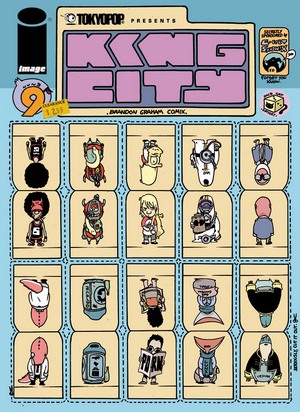 Okay, so here is The Weird World of Jack Staff #4 (p. 168). Now, I like me some Jack Staff, as you know. But I have also decided that I'm not buying single issues anymore. If I don't get this, will it be collected in a trade at some point? Image is pretty good about trades, but I'm pretty sure a lot of the later issues of just plain Jack Staff won't be collected. WHAT TO DO?
I enjoyed RASL vol 1 well enough, so I'll be getting RASL Volume 2 (p. 228).
PICK OF THE MONTH
Wilson (p. 249) The solicitation blurb (unlovable loser finds long-lost daughter, tries to connect with her and ex-wife) seems like crushingly familiar indie comics territory, but given Clowes' other work, I'm more than willing to give it a try.
What about Weathercraft (p. 256), a graphic novel from Jim Woodring? Yes indeed. I'm feeling those old Previews Blues slipping away!
Alas, ixnay on Doctor Who #10 (p. 268). I don't dislike the stories, and if I found a cheap trade of them I'd probably get it, but it's not something I want to get in single issues at all.
But Atomic and the Revenge of the Vampire Dimension #3 (p. 288)? That one I will get as a trade.
Viz has a new manga series I'm interested in: Saturn Apartments (p. 301). I checked out the preview here and decided to give it a whirl.
Hikaru No Go vol 19 (p. 302) is a must…am I right in reading somewhere that this series is about to wrap up?
I'm now at "Toys and Models"…dare I go further?
I've hit the region that gave me the creeps before. Pages 381-383. That's the point where the sheer amount of worthless plastic junk becomes unbearable. How many "Iron Man 2: Whiplash Bobble Head"s can we just go ahead and bury in landfill to save time? Why do geeks need to own little plastic representations of shit they like? Stuff that does nothing except take up space? What do you do with all this crap except eventually try unloading it to some sucker on eBay?
See, now I'm in a grouchy mood again.