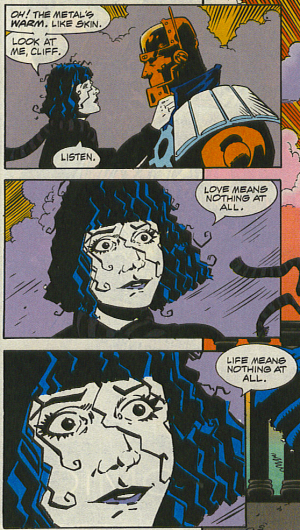 I recently bought the complete Grant Morrison run of Doom Patrol in trades and finished re-reading them all list night. I love the series, and am glad I got into it when I did, as it helped keep me from wasting time with most other superhero comics.
But man, Crazy Jane…she is something of a problem, no? Sexually abused as a child, raped as a young woman. Her superpower is, literally, "Bitch crazy". She has no identity outside of that. Everything she does and says is more or less borne out of her abuse. She shows her underwear a lot. The first time she can't deal with things and goes catatonic, a man goes in to save her, who becomes her protector through the series. Ultimately she is helped by realizing that she essentially just needs to "get over" the rape and abuse. When she does so, she loses her powers.
Even by early-90s comics standards that's something else.