This weekend, dear readers, I was the victim of a crime.
Lego is eventually coming out with an MMORPG* called Lego Universe. To promote this, they are allowing people to upload pictures of Lego creations they've done. Perhaps unsurprisingly, some folks have simply grabbed pictures off Flickr or other Lego sites and uploaded them as their own work. It's questionable as to why they'd do this; there is, to my knowledge, absolutely nothing gained by doing so.
This weekend I was delighted to find that something of mine was deemed worthy of stealing!
A user on Flickr alerted me to the fact that my vignette from last year, Ben's Trophy Room, had been swiped and "repurposed" as a "hand shop". I left a comment on the image at Lego Universe reporting it as a swipe, but so far nothing has been done. (From what I've heard, nobody's really done anything about other swipes either, but as I say, there's really nothing anyone's gaining — or losing — from such things.)
They say that people on the Internet who are concerned about others stealing their content usually don't have any content worth stealing. Now that I know I have content worth stealing, I am locking down all my stuff. All my Lego images from now on will look like this: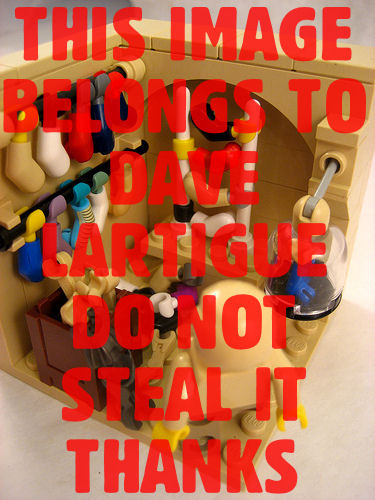 This will hopefully deter such thievery in the future.
EDIT: Lego has taken the image down.
—
* – MMORP Game